Sawing Your Way to a Perfect Woodworking Project: How to Choose the Right Power Saw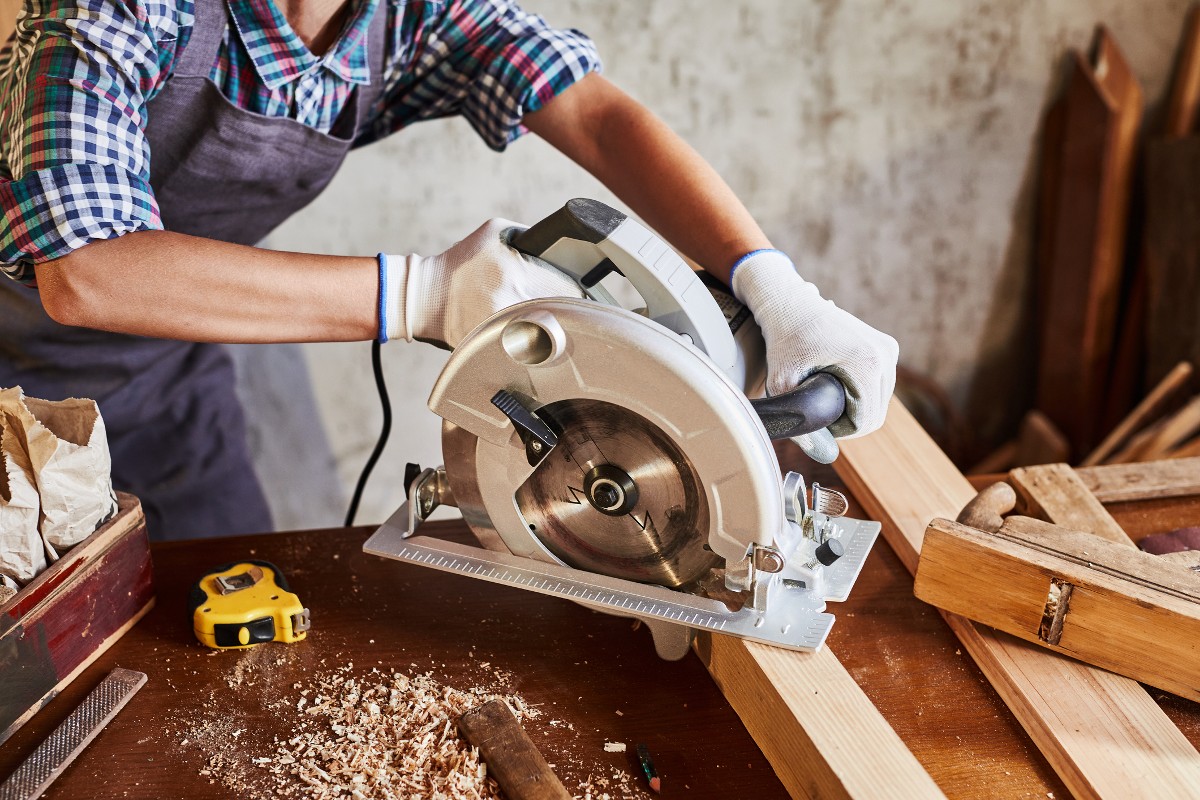 Choosing the right power saw for your woodworking project requires careful consideration. There are a variety of power saws available, each with its own unique set of features, pros, and cons. This guide provides an overview of the different types of power saws, factors to consider when selecting the right power saw for your project, basic power saw cutting techniques, and essential attachments and accessories for each type of saw. Furthermore, it provides insight into proper maintenance and cares for your power saw.
Understanding Different Types of Power Saws
Table Saws
Table saws are versatile tools that provide a large cutting surface with a flat top and removable fence. These power saws deliver smooth and precise cuts, making them ideal for trimming and straightening materials like wood boards, plywood, or composites. Table saws are powered by either electricity or gas engines and offer various safety features depending on the model.
When selecting a table saw, the type of project you're working on should be taken into account. If you plan on using it on larger projects such as cutting board materials or large pieces of lumber, then a cabinet table saw would be best as it provides greater power and stability. For smaller projects like furniture repair or carpentry work that requires mobility, then a portable or hybrid table saw is more suitable. Additionally, consider the type of environment in which you will be working in terms of space and features such as dust collection.
Safety is paramount when operating any type of machinery so it's important to take proper precautions when using a table saw. When working with one, always make sure that you have properly installed a blade guard to protect yourself from potential harm caused by material or debris being thrown from the saw blade. Additionally, be sure to wear proper protective gear such as protective eyewear, dust mask, hearing protection, and gloves to ensure your safety and comfort while operating the machine. It's also important to stand in front of the table saw while operating it to maintain control of the material being cut and ensure accuracy in measurement when making cuts. As with any machinery you operate, be sure to read and follow all directions provided in user manuals before use.
Circular Saws
Circular saws are one of the most common types of power saws used in most woodworking projects. They are incredibly easy to use and provide exceptional accuracy in a variety of materials due to ultra-thin blades that spin at very high speeds. As a result, these power saws can cut through thick pieces of wood quickly and effortlessly. Circular saws may be cordless or corded and are available in left- or right-handed versions depending on the user's preferences.
The blade is the most important part of any circular saw as it is responsible for cutting your material accurately and safely, so it's important to choose the right type for your specific job. There are two common types of blades: high-speed steel (HSS) blades which offer long-lasting performance but can dull quickly; and tungsten carbide tipped blades which maintain their sharpness more consistently over time but can wear out faster than HSS blades if abused or misused.
Make sure you set up your circular saw on even ground in a safe location where you won't be disturbed while making a cut. When starting a cut, stand comfortably away from the blade so that if it kicks back, it won't hit you in the face or body area.
Band Saws
Band saws are powered by electricity and use thin metal blades to cut through a wide range of materials including lumber, metal, plastic, and even bone. These power saws have adjustable guide posts that can be used to cut precise angles and curves with ease. Band saws can be used for large projects due to their capacity for cutting curved shapes in thick boards with ease.
Band saws are available in a number of designs and sizes to suit different projects and workspaces. Three of the most common types include stationary band saws, benchtop band saws, and portable band saws.
Stationary Band Saws
Stationary band saws are the largest type of band saw available, with the blade typically mounted on a large table that is supported by four legs or on a custom bench. These band saws are designed for larger tasks that require more cutting power and typically come with more features than smaller varieties.
Benchtop Band Saws 
Benchtop band saws are smaller than stationary models but offer greater portability than stationary models due to their lightweight design. They are designed to be placed on top of a workbench or table and feature powerful motors that allow them to cut through a variety of materials.
Portable Band Saws 
Portable band saws are even smaller than benchtop models and are designed for use in tight spaces or on construction sites. They can be powered either by electricity or batteries and offer both speed and convenience due to their small size and lightweight.
Miter Saws
Miter saws are primarily used by woodworkers for making angled cuts or trimming excess wood off a larger piece. These power saws use special blades with industrial teeth to rapidly cut through hardwood with minimal effort. Miter saws allow users to make precise angle cuts while keeping their hands safely away from the cutting line.
A typical miter saw has five major components: a motor, an arbor, a blade, a table, and a fence. The motor powers the blade which is attached to the arbor. The blade can be tilted at different angles through the manipulation of the table. The fence provides support for the material as it is pushed through the blade.
Miter saws come in three types: compound miter saws, sliding compound miter saws, and dual compound miter saws. Compound miter saws are fixed and have one cutting plane in one direction and another cutting plane in the opposite direction, while sliding compound miter saws can slide along tracks and have two cutting planes; one in each direction. Dual compound miter saws have an additional cutting plane in one direction below the table.
Jigsaws
Jigsaws are small handheld power tools that use thin blades to make tight turn patterns in wood or other materials. They are ideal for intricate decorative details as they allow users to easily switch between several blade types depending on the desired design element or pattern they want to create. Jigsaws also feature variable speeds so users can adjust the speed of the blade based on their project's requirements.
Higher quality models feature adjustable blade guides which allow for straighter, smoother cuts without wandering off course as well as more powerful motors for tackling tougher materials such as hardwoods and metals. These higher-quality models also feature more advanced safety features such as quick-lock systems which reduce the risk of injury when changing out blades quickly between cuts. Additionally, they have speed control settings that allow you to adjust the speed of the blade depending on the material being cut – this results in cleaner cuts and less wear on the blade over time.
Reciprocating Saws
A reciprocating saw is a type of electric saw that is designed to cut through materials such as wood, metal, and plastic. It consists of a blade attached to an electric motor with a clutch that generates its own power as it moves back and forth along its track. This type of saw is often referred to as a saber saw or jigsaw.
Reciprocating saws are incredibly versatile and can be used for a variety of tasks such as demolition work, cutting piping, removing drywall, and trimming branches from trees. They can also be used for more intricate jobs such as making decorative cuts in wood or creating intricate circular patterns in the metal.
One of the most important things to consider when selecting a reciprocating saw is its size. If you're going to be working on large projects such as demolition work or tree trimming, then you will need to choose a larger model with more power. For smaller projects such as fitting pipes or cutting drywall, you may opt for a smaller model which is easier to handle and navigate in small spaces.
Band Saws
Band saws are an essential tool for a variety of projects, and being familiar with the different types and features of the band saw can help users get the most out of their saw. This guide provides an overview of different types of band saws, how they work, the benefits they offer, common uses, and various safety measures to have in place when operating a band saw. Additionally, there are tips on how to best shop for a band saw and troubleshoot common problems.
Scroll Saws
A scroll saw is a type of sawing machine that uses a thin blade to make intricate cuts in material such as wood, metal, or plastic. It is often used to create detailed shapes such as curves and circles.
It is important to securely clamp the workpiece so it won't move while cutting – this is especially important when making curved cuts as even small shifts can result in uneven lines or misaligned pieces when finished! To properly clamp a board onto the table of the scroll saw use two clamps at opposite corners (or two clamps with jaws on both vertical sides) so that they evenly hold the board in place without putting too much force on any one point – this will ensure a secure hold without damaging the workpiece.
Chop Saws
Chop saws are an invaluable tool for any woodworking or construction workshop. Whether stationary, miter, or compound, these saws offer a wide range of functions to make cutting wood easy. Before making a purchase, it is important to understand the types of saws available and the features to look for when making your choice.
Track Saws
Track sawing is a cutting technique used primarily for precise cuts in larger pieces of material like plywood or MDF board. This type of saw enables users to make accurate straight, mitered, and plunge cuts without having to join two or more pieces of wood together in order to make a single cut.
The main benefits of using a track saw include improved accuracy, clean and precise cuts, portability, and less dust compared to other types of saws. Track saws are also ideal for curved cutting as well as standard straight-line cuts.
Radial Arm Saw
A radial arm saw is a type of large stationary saw that is used for cutting long boards into smaller pieces, such as plywood and lumber. The blade is mounted on an arm, which can be adjusted for depth, angle, and length in order to make precise cuts. It is designed to be extremely versatile, as it can make both short and long rip cuts along with miter cuts and angled cuts.
One of the biggest advantages of owning a radial arm saw is its versatility. It can be used for making all sorts of straight cuts as well as angled cuts, allowing for more precision when working with different materials. Additionally, its ability to make long rip cuts makes it ideal for cutting longer pieces of lumber or plywood into smaller sections. The radial arm saw is also very efficient, as its adjustable components can save time by removing the need to measure each cut separately. Finally, radial arm saws are relatively easy to use once you get accustomed to them, making them perfect for beginners and experienced woodworkers alike.
Factors to Consider When Selecting the Right Power Saw 
Types of Projects
When choosing a power saw, the first factor you should consider is what type of projects you need it for. Different types of power saws are tailored towards specific tasks like making miter cuts or ripping boards into strips; if you know what kind of work you need to do beforehand, you can easily choose the most suitable tool for your needs.
Budget
Your budget is an important factor when selecting any type of power tool; it's important to determine how much you're willing to spend before choosing a particular model or brand as some models may be too expensive or not offer enough features compared to others in the same price range.
Power & Speed
The powerfulness and speed of a particular power saw will also affect which one you choose; more powerful models will be able to complete tasks more quickly while less powerful ones may take more time but be more suitable for doing intricate tasks with fine details. As such, it's important to consider both aspects when picking out your desired model or brand.
Safety Features
Finally, you should also consider which safety features come with the particular model or brand you choose; having features like anti-kickback systems or blade guards can help protect you from potential accidents while using the tool and should be taken into consideration during your selection process.
Basic Power Saw Cutting Techniques
Ripping
Ripping involves using a power saw to cut along the lengthwise grain of material; this technique is typically used when cutting boards down into shorter pieces or forming strips from larger boards. To rip successfully with a table saw, hold onto both ends of the board firmly and keep it pressed down against the fence as it passes over the blade; this will ensure an accurate cut without any wandering off course midway through the motion.
Crosscutting
Crosscutting involves cutting across (at an angle) the grain of a board's length; this technique is commonly used when trimming down wider boards into smaller pieces that match specific measurements such as 2x4s or 4x4s. To make successful crosscuts with a table saw, start by setting up a fence at your desired measurement then slide it overtop the board as it's being pushed under the blade; this will help keep everything lined up for an accurate cut every time without any deviations from its intended size afterward.
Compound Cutting
Compound cutting is another technique that involves combining both ripping and crosscutting techniques into one motion; this allows users to quickly create angled boards with multiple sizes within them in just one pass over the blade instead of two separate motions which would require more time and effort overall.
To perform compound cuts on a table wing-style table saw, begin by setting up both ripping and crosscut fences at their respective measurements then slide them together overtop the board as it passes underneath; this will ensure all sizes come out at their intended measurements without any unwanted deviations throughout its motion path between adjustments made during setup beforehand.
Bevel & Sloped Cuts
Bevel and sloped cuts involve adjusting (or tipping) the blade at an angle and then following through with either ripping or crosscutting motions depending on which technique is required. This allows users to quickly create more complex shapes than using just straight-line motions alone could provide. To make successful sloped cuts on a table wing-style table saw, start by tilting both fences (at different angles depending on desired shape) then slide them overtop the board as it passes under; this will ensure all lines come out accurately without any unwanted deviations from their intended design throughout its pathway afterward.
Essential Saw Attachments & Accessories
Cabinet Saw Accessories
Cabinet-style table saws come equipped with several accessories designed to improve accuracy including miter gauges, feather boards, tenoning jigs, rip fences, extension wings, dust collection systems, or even sliding table attachments depending on which model you purchase.
Depending on what type of projects you plan on taking on, certain accessories may be required while others might simply provide convenience during operations; either way, accessories are often essential components when purchasing any cabinet-style table saw.
Saw Blades
A good quality blade is essential when operating any type of power saw; selecting one that matches your material needs (i.e. softwoods versus hardwoods ) along with its intended purpose ( i . e . ripping versus crosscutting ) can help improve accuracy significantly during operations. When purchasing new blades, always make sure they're compatible with your tool before attempting to attach/install them – failure in doing so could result in damaging either element beyond usability.
Saw Fences
A quality fence is another important accessory in ensuring accurate cuts while working with any type of power saw; these adjustable components provide clear indications regarding where each cut should start/stop while also helping keep fingers safely away from blades during operations. When selecting/installing new fences, always verify compatibility between them (and your tool) beforehand – incorrect mounting/installation could result in inaccurate cuts later on down the line due to unforeseen misalignments within the components involved.
Table Saw Extensions
Table extension wings provide additional support when needed during operations; they expand surface area while also providing extra clearance underneath blades (when angled ) which prevents debris buildup between them & base elements involved during processes requiring larger pieces within setups. Extensions can be mounted directly onto tables themselves allowing full utilization during operations; however, always make sure they're firmly secured before attempting any serious applications involving them – failure in doing so could result in kickbacks & other serious injuries occurring if not handled properly beforehand.
Power Saw Maintenance & Care
Cleaning & Lubrication
Power tools require regular maintenance and lubrication in order to operate efficiently; proper cleaning should consist mainly of wiping them down after each use along with periodic oiling & sharpening where applicable (blades) – never attempt cleaning internal components like motors/gears yourself unless specifically trained/certified personnel besides yourselves handle those operations safely/within designed procedures provided by manufacturers themselves beforehand.
Aligning Blades
Blades should always remain properly aligned & installed before engaging in any applications involving them; misalignments within blades themselves can cause significant kickbacks to increase risk factors associated during operations – inspect regularly before attempting major applications involving them whenever possible afterward as well; never operate a power saw without doublechecking alignments beforehand – proper handling should always occur beforehand whenever possible itself afterward too just in case unexpected issues arise later down line requiring additional preventative measures taken prior engaging operations involving power saw itself afterward too if required then too afterward also too if necessary then afterward too also afterward if required afterward too.
Changing Blades
Changing blades may require certifications from trained personnel beforehand unless instructions provided have been followed prior to doing so safely/properly; always verify compatibility between blade(s) and the tool before attempting to attach/install them otherwise risks associated increase significantly due to unforeseen circumstances arising later down line.
Wrapping Up
With all of this information, you can now make an informed decision when it comes to selecting the right power saw for your woodworking project. Whether it's a basic hand saw or a complex radial arm saw, each type of saw has its own unique features and benefits that can help you make your project a success. Just remember to consider which type of projects you'll be doing, your budget, the power and speed of the saw, and any safety features it may have; that way, you'll have the perfect power saw for the job!