5 DIY Home Decor Projects You Can Do for Under $100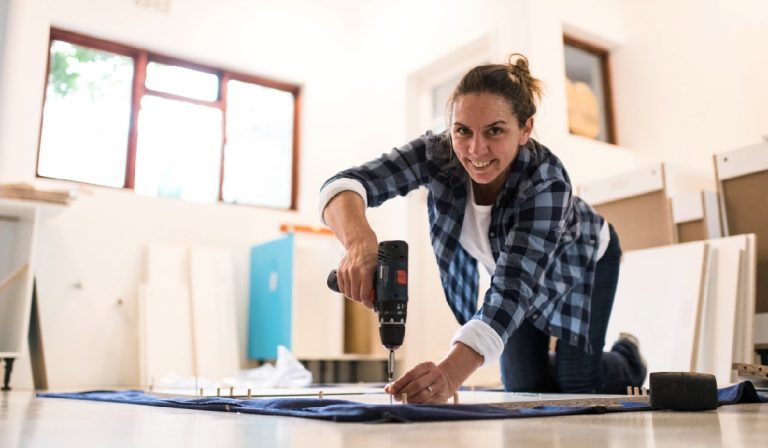 Decorating your home can be expensive and time-consuming, and many people don't feel like they can afford to decorate it the way they want. That's where we come in. From painting walls to creating unique artwork, there are plenty of ways you can give your home a facelift without spending a fortune. We'll walk you through 5 DIY projects step-by-step, so you can easily give your home the refresh it needs. With a bit of creativity, the right materials, and a can-do attitude, you can transform your space for under $100. Let's get started!
Gallery Wall
You will need several frames in different sizes, a package of nails to hang them, and paint or wallpaper. To create your gallery wall, measure the space you want to fill and calculate the appropriate size of frames needed. If you desire, you can paint the wall a different color or choose a wallpaper to make it pop. Next, choose your frames. Go for bold colors or gilded frames depending on your personal style and mix and match shapes to create a unique effect. Once you have the frames, make paper cutouts of their measurements and paste them on the wall before you hang them so you can play around with the order you want. Next, hang the frames on the wall one by one by hammering in nails.
Reupholster a Chair 
You will need fabric, scissors, a staple gun, staples, and batting foam for padding. This project could cost as low as $30-$50. If you want to reupholster your chair, you'll need to remove the old upholstery. The removal method will depend on how the original upholstery was secured, but typically you can use a screwdriver or pliers to complete this task. Once removed, start cutting the fabric into four pieces that measure slightly larger than each chair part that needs to be covered. Start stapling the batting foam onto each chair part before stretching the fabric over each section and stapling it in place. If you're using a patterned fabric, ensure each piece is lined up correctly when covering each cushion section. 
Art Supply Wall Organizer
This project is not only aesthetically pleasing, but it is also functional! You will need a framed peg board for your wall (they are easier to mount), pegboard hooks, and tools to hang up the board. This project will mainly require you to measure a space for your framed pegboard so you can organize your art supplies or crafting materials easily; think things like scissors, ribbons, brushes, small paint bottles, and glues. Some pegboard hook kits come with mini-bins to hold plants or hooks and shelves you can use to display artwork. This pegboard set-up is especially helpful if you are a crafting hobbyist who loves functional decor. 
Decorate a Dresser
You will need a dresser (or any furniture piece you think needs some new spark), newspaper for the floor, paint suitable for wood, paint sealant, paint tape, and paint tools. To decorate an old dresser, start by first penciling in the designs you wish to add. You can do this on a sketchbook first before setting the design on your dresser. Put crafter's tape on all the drawer handles first and play down newspaper before painting the dresser an entirely different color. Or if you wish you can just add paint detailing instead if you want to keep the original wood finish. Then add things like floral detailing, vines, or anything that pleases you with a smaller paintbrush. These can be along corners or the patterns/ image can be all over the dresser. After you are finished let the paint dry and apply a sealant to lock in your work. Remove the crafter tape and enjoy your newly updated dresser!
DIY Wall Art
You will need various supplies depending on the type of art desired. Gather some canvas board or thick paper, brushes, paints, and other mixed media materials or pieces. When creating DIY art, it's all about personal preference and the desired type of art. To start, use a blank canvas and sketch out a basic shape or picture, then add details using paints or other mixed media materials. Get creative with the materials you incorporate like cutouts of newspaper/ magazines, using paints and glitter or even cloth appliques, and let your imagination run wild! When you're finished you can either hang it up right away or frame it. 
Conclusion
DIY home decor projects are a great way to add style, personality, and value to your home without spending a fortune. Whether you're looking to create a gallery wall, reupholster a chair, make a rug, paint a dresser, or create DIY wall art, these five projects can help you get started and give your home the refresh it needs. With a little patience and artistry, you can start creating beautiful DIY projects for your home and stay within budget.