Everything You Need To Install a Door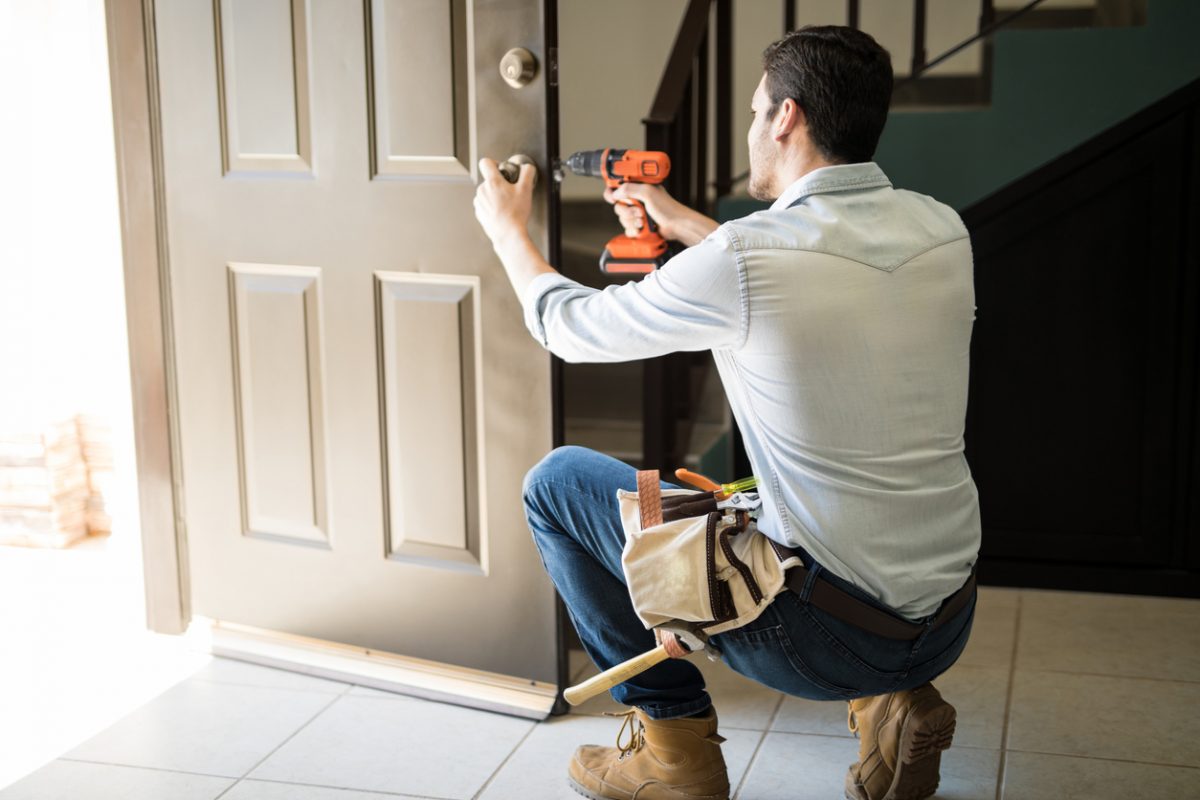 DIY-ing your way around your home tasks, installations and repairs can be addictive. Once you realize how much money you can save on labor, it's hard to look back. We're not judging — this is a safe space and we totally get it.
If you're planning to install a door in your home, you need to start with a plan. We're not referring to a big-shot, luxurious entrance door but rather something that falls in the middle of budget and luxury. 
It's not that you can't DIY your way around the latter, it's just that it may require extensive gear and you may have to carry expensive gadgets around. We advise that you leave that to the professionals. Here's everything you need to install a door in your home:
DOOR FRAME
A door frame could be made out of wood, metal, or aluminum. Depending on the type of door you're going with. We're assuming it's a wooden frame for a wooden door — since they're the ones most frequently opted for.  
So choose the door and door's frame before anything else. Once that's settled, you can move on to gathering the rest of the installation gear.
GALVANIZED NAILS
Galvanized nails are just nails that are protected with a zinc coating which helps prevent rust and corrosion. You're going to need them in different lengths. Communicate the details of your project to your hardware store owner. They'll be able to recommend you the right-sized nails as per the thickness and size of your frame and door.
SCREWS AND SCREWDRIVER
You're going to need your screws and screwdriver to put the door's frame in its place. For a secure installation, it's best that you use screws at multiple spots. You can also use shims and use longer screws for a securer installation. 
DOOR HINGES
Depending on the size of your door, you may have to purchase two to three door hinges. You'll need screws to attach them to both the door and its frame. There are a couple of door hinges and each one has a different use — depending on how heavy the door is. You will also have to be mindful of the hinge's size. 
Make sure you reference one of the already-installed doors at your home or consult your hardware-store owner to find an ideal size. Following are some primary types of door hinges available on the market:
Ball-bearing hinges (most popular)

Spring-loaded butt hinges

Heavy-duty hinges

Offset hinges

Security hinges
MALLET AND HAMMER
A mallet usually has a weighted top made out of rubber. Its purpose isn't exactly to thrash objects but to rather impart a force on something. During door installation, you may have to use it while fitting the frame into your wall.
A hammer, on the contrary, has a metal head and is used to drive nails through objects. You may also use its other end to pull a nail out of some material.
SPARE WOOD
At times, our concrete walls are slightly out of alignment. This may become a hurdle when you're trying to fit your door frame. To even it out, you may need to insert a piece of wood right between the frame and the tilted wall. You can then later cover it with wood putty and make it look like a part of your frame.
LEVEL
You're going to need a level to make sure your door is as straight as an arrow, both horizontally and vertically.
SAW 
When you're working with wood, there's often a need to chip or crop corners and borders to ensure a proper fit. We're not talking about a power saw, in this case, just a hand saw would do.
FINAL THOUGHTS
Once you've got all these accessories, you can watch a video or two on YouTube to successfully go about your DIY project. If you want to install a sliding door, you'll also need a door roller and rolling tracks in addition to the aforementioned items. So good luck and always be careful when dealing with sharp and heavy items like saws and hammers!