A Beginner's Guide to Using a Framing Square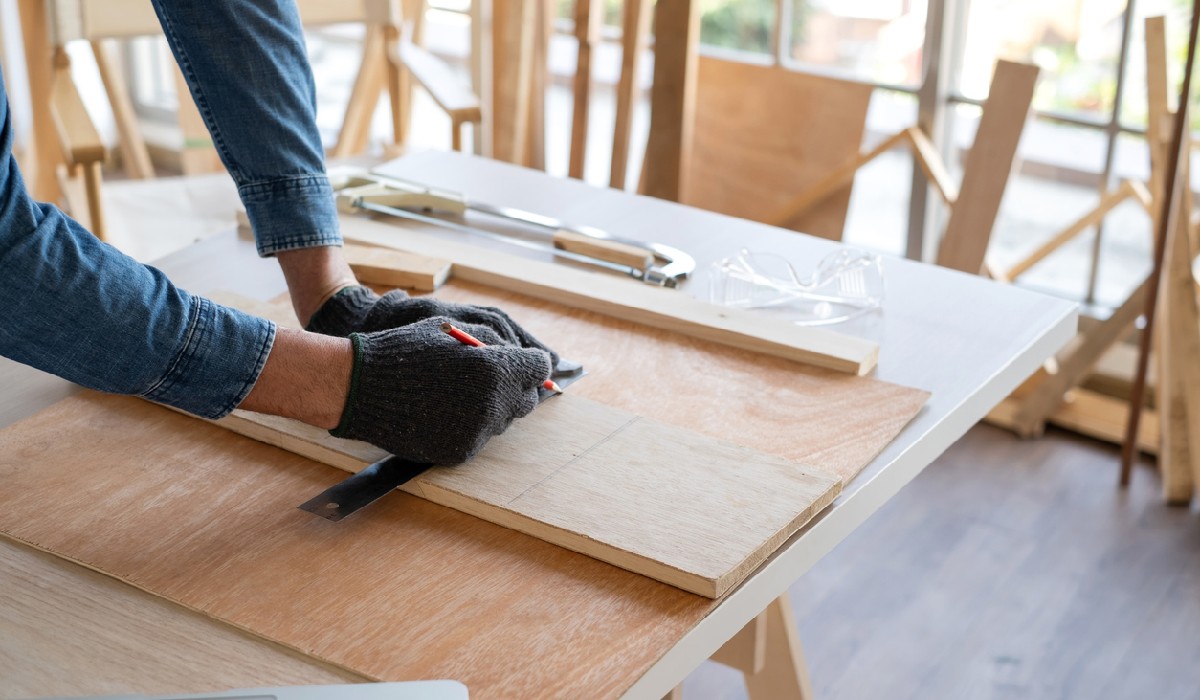 If you're ready to tackle your next DIY project and expand your woodworking skills, then it's time to invest in a framing square. This versatile tool combines the functionality of a carpenter's square and a combination square to help you measure, mark, and cut lumber.
In this post, we'll provide you with a beginner's guide that'll teach you how to use a framing square, so you can get started on your project as soon as possible. We'll also discuss how to read a framing square, the types of lines used to create accurate measurements and how to create perfect corners and angles.
What Is a Framing Square?
A framing square is a tool commonly used by carpenters and other tradespeople to mark walls or other materials accurately. It consists of two arms, one long and one short, to form a 90-degree angle at their intersection when laid flat on a surface. The long arm rests against the material being marked while the short arm lines up with a ruler or straightedge. The square also has several markings for measuring angles and lengths.
Benefits of Using a Framing Square
Using a framing square allows carpenters to easily check for squareness of corner angles and check for level on walls or floors. This square can also be used to mark out precise measurements for cutting boards or other materials accurately, making it much easier to get a straight cut every time. Plus, the markings along the arms help carpenters quickly measure angles and determine the length of rafters and other structures. All these uses make the use of a framing square an invaluable part of any woodworking project.
Types of Framing Squares
Standard Framing Squares
Standard framing squares range in size from around 12 x 24 inches to 16 x 48 inches, with most sizes falling somewhere in between these two points. These are great all-purpose squares that are suitable for most carpentry jobs, but they may not be large enough for some projects.
Combination Squares
Combination squares are essentially smaller versions of standard framing squares and are also useful in carpentry projects. They usually measure between 12" x 12 inches and 16 x 16 inches and have markings along the edges that make it easy to measure angles and lengths quickly and accurately. These squares are ideal for smaller projects such as cabinet or furniture building where more precision is necessary.
Rafter Squares
Rafter squares are typically around 24 x 48 inches in size and have special markings that make it easy to measure angles for rafters or stairs quickly and accurately. Most rafter squares will also have markings that allow you to calculate run lengths when laying out stair strings, as well as measurements for cutting common or hip rafters without having to look up the values or do any calculations yourself.
Measuring With a Framing Square
Laying Out a 90-Degree Angle
When using a framing square to mark out right angles, begin by resting it across the edge of the material you want to mark at 90 degrees. Then line up the long arm so that it matches up with one side from corner to corner, making sure that the endpoints exactly match up with your desired corner point (you should be able to see the corner through the opening created by intersecting arms). Marking it out on your material using the blade edge as a guide will help ensure it looks perfect.
Determining the Squareness of a Corner
If you need to check whether an existing corner is a true 90 degrees or not, use your framing square like you would if you were marking it out from scratch (as described above). If the corner appears straight when looking through the opening created by intersecting arms then it is indeed perfect at 90 degrees. If not, simply adjust accordingly until it appears straight when viewed through the opening before marking with your blade edge as usual.
Checking for Levelness
Another way you can use your framing square is by placing it against an existing wall or floor structure on both sides (using equal amounts of pressure) and checking whether they line up correctly at both ends. If they do then you know that they are level. If there is any visible difference between the ends, you can adjust until they line up correctly before continuing with whatever task you intend on completing next (eg: installing floorboards).
Marking With a Framing Square
Once you have determined where you need to make marks with your framing square, there are several different ways you can use it to mark those areas accurately:
Outlining A Square Or Rectangle
Start by drawing one side parallel with one end or corner point before drawing another side perpendicular to this line (this creates an intersection point where two arms should meet when placed flat against the material). Next, measure along the short arm from the intersection point according to the required length before marking — this will create marks corresponding to that length at either endpoint when placed flat against the material. Simply draw lines downwards or outwardly from these marks until the intersection point is reached again — this will define your outline perfectly (providing both lines were drawn equal distances away from either endpoint).
Outlining A Circle
Start by determining the circle's center point before placing one arm against the edge in a straight line parallel to the direction needed, making sure that arm runs through the center point when doing so. Then, use the short arm like a compass needle pointing towards the circle center, making sure the short arm makes contact with the edge during this process before rotating the blade around until the connection is made again. This will create a perfectly circular outline every time (providing both arms are kept the same distance away from the edge during this process).
Conclusion
This concludes our beginner's guide to using a framing square. By understanding the basics of using a framing square, DIYers and novice carpenters can quickly start using this versatile tool to make accurate measurements and cuts on their projects. From laying out right angles and checking levels to notching boards and marking out circles, a framing square will be a key part of your toolbox no matter what kind of projects you're tackling.