What Are the Different Types of Socket Sets?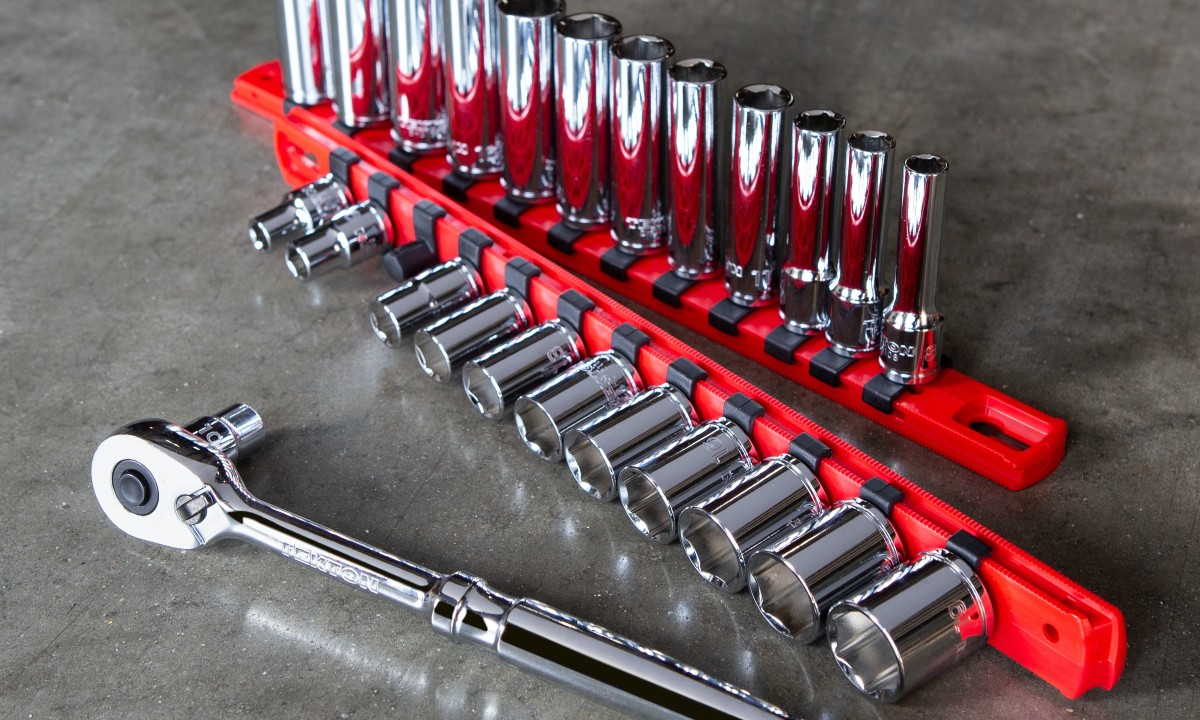 Seasoned professionals know that no toolkit is complete without a socket wrench. But what's the point of one without a socket set? Here's all you need to know about this essential toolkit.
What Is a Socket Set?
A socket set is a bundle of complementary accessories used to fasten nuts and bolts. It includes pieces of various sizes that can be attached to a wrench for assembling or repairing machinery and building structures. Not one socket set is like the other — versatility is closely tied to a massive variety within the shape and size of fasteners offered. As the world of machinery and construction constantly evolves, the type of nuts and bolts have become virtually countless. This is exactly why every socket set comes with different add-ons. To choose the right one for your needs, make sure all interchangeable attachments fit your wrench. 
To save yourself unnecessary trouble, purchase an all-in-one set. It won't be the only kit you'll ever need but will come pretty close to that. Larger socket sets contain a plethora of sockets that fit different fastener types. Naturally, not every size is catered to, but such an addition to your toolkit definitely elevates utilitarian benefits.
Different Types of Socket Sets
Deep socket sets
Reaching bolts that are buried inside machinery is as frustrating as it gets. In such cases, deep sockets can allow access to fasteners that require an extra arm stretch. These are usually needed to tackle tire lug nuts or protruding bolts.
Imperial socket sets
Fastener heads that measure less than an inch are pretty hard to tackle. That's where imperial socket sets come in. As the name suggests, these are more suited to older, somewhat outdated, nuts and bolts. There's plenty of size variety within this specific category, and you shouldn't have any trouble finding socket sets that fit imperial standards. While investing in them has many potential uses, professionals recommend buying imperial socket sets along with other types. Why? Because you'll mostly only need these when working on very old buildings and machines. 
Impact socket sets
Impact socket sets are a perfect match for pneumatic air and electrical wrenches. These are specifically designed to enhance work efficiency and seamlessly fit power tools. A distinct build separates them from the rest whereby each socket is made with thick alloy metal. This reduces the chances of shattering, ultimately, making impact socket sets suitable for heavy-duty processes. Quality brands also coat these accessories in anti-corrosion liquids that prolong durability and prevent ineffective use within day-to-day applications. 
Hex socket set
Better known as six-point sockets, hex sockets are possibly the most common variety out there. They are made to fit standard hexagonal bolt heads. Their design flaunts major leaps in versatility as hex sockets prove to be very helpful in most applications. A total of six edges lend support to users looking for effective tightening or loosening of nuts. Additionally, hex sockets may also have convex internal faces that increase torque and limit wearability.
12-point socket set
12 inner faces enable maximum socket-bolt contact for quick and easy turning. Needless to say, their torque is twice as much as hex socket sets and they're helpful in applications where the latter doesn't stand a chance. For instance, tightening square nuts is impossible with six-pointers whereas 12-point socket sets get the job done perfectly.
If you invest in a socket set that best suits your requirements in the first place, the chances of you needing to buy add-ons will be drastically reduced. So, choose wisely!