How To Easily Strip Paint From Wood Like a Professional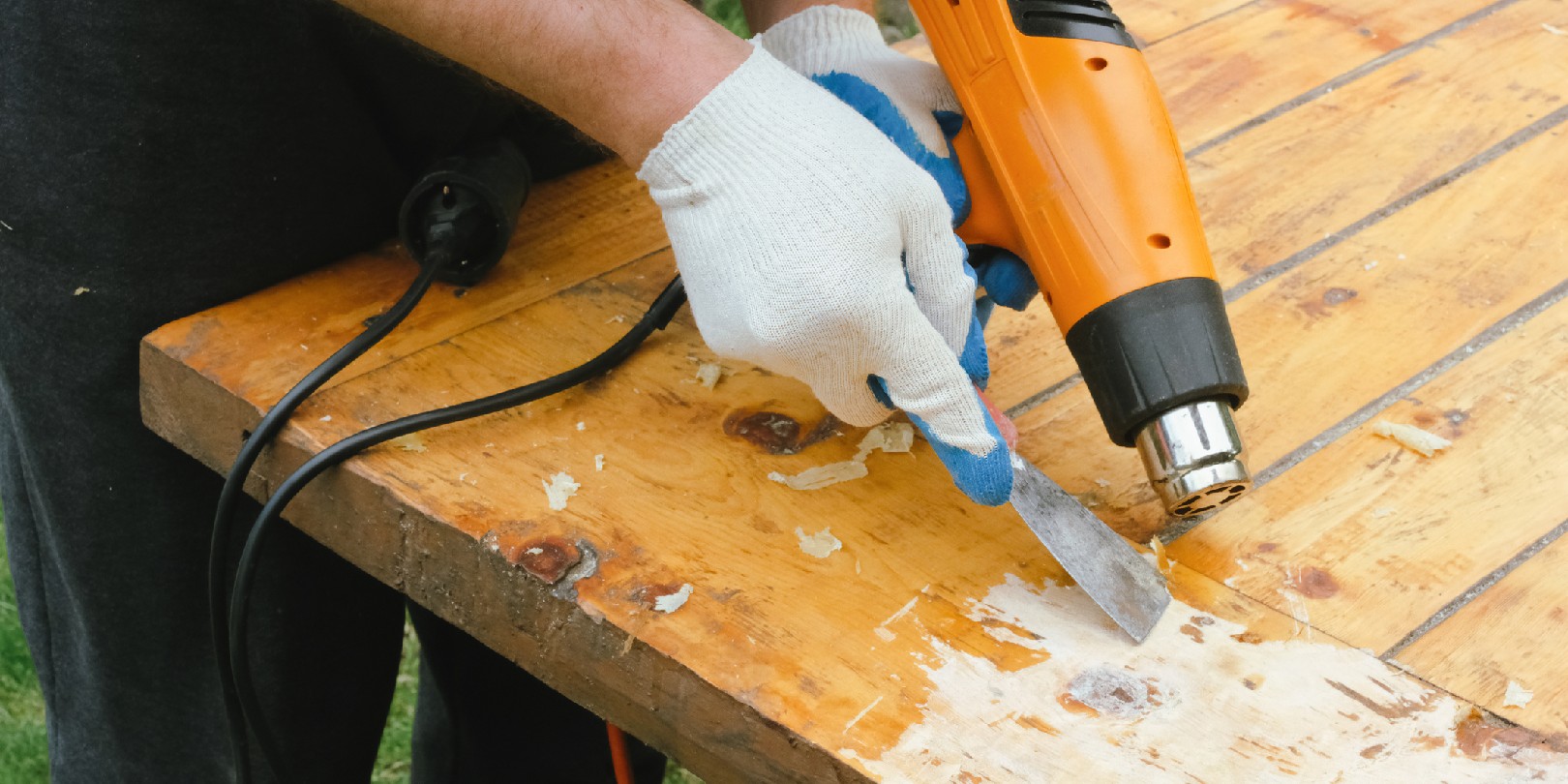 Do you have an old piece of furniture in your house that needs a new paint job? Or maybe you express your creativity by painting on any surface you can find. No matter your situation, there might be a time when you want to strip the paint off the wood. And in those moments, you need to know how to easily strip paint from wood.
It can seem intimidating at first, but stripping paint from wood is quite simple once you understand the basics. In this article, we'll walk you through the different methods of paint stripping and the products you can use along the way. Then, we'll explain the step-by-step process of paint stripping, followed by helpful tips to make the process even easier.
Overview of the Stripping Process
Paint is a great way to spruce up wooden surfaces. You can make them look brand new with neutral tones. Alternatively, you can paint wooden surfaces with bright colors for a bolder look. But eventually, the paint will start to chip away and the surface will look worn. Fortunately, when the time comes, the paint can be removed relatively easily. However, it is important that you first understand the various methods of paint stripping. 
Types of Paint Strippers 
There are three primary ways of removing paint from wood. You can sand, chemically strip, or heat strip paint from wooden surfaces. Sanding is the most common method for small projects because it is relatively low-cost and straightforward. 
Chemical stripping is a more involved process. It works best for paint removal projects that will cover medium to large surface areas. Heat stripping is popular when you're working with complex shapes and other delicate areas, requiring less force than sanding or chemical stripping.
Choosing the Right Strippers
When selecting a paint stripper for the job, consider the type of paint being removed. Think about the size of the project and how much paint is on the surface. Water-based paints are usually easier to remove than oil-based paints, while lead-based paints might require you to use special strippers. 
You may need to use several types of strippers depending on the extent of the project. Finally, always make safety a priority when using chemical strippers. Take precautions by wearing protective clothing and ensuring proper ventilation when using these products.
Safety Considerations
No matter which paint removal method you choose, safety should always be paramount when working with wood and chemicals. Sanding can generate significant sawdust, so wear eye protection and breathing masks when necessary. 
When using chemical strippers, always wear appropriate protective gear, gloves, goggles, and a respirator. If heat stripping with a heat gun, ensure that all sparks are kept away from combustible materials and wooden surfaces.
Stripping Methods
In this section, we will discuss each type of stripping method in detail. That way, you'll know how to apply the appropriate stripping process to your project. In doing so, you'll be able to achieve maximum results with minimal effort. 
Sanding 
Sanding is an easy way to remove paint from wood surfaces without using harsh chemicals or heat guns. Cover the area you don't want to remove paint from before you start sanding. You can use a drop cloth or some other form of protection before sanding. Then, use either a random orbital sander or 220 grit sandpaper. 
Next, gently sand in a circular motion until you can see bare wood under the paint. Make sure you don't press down too hard. Otherwise, you might damage the underlying wooden surface. When you finish, brush away the sawdust with a soft cloth or use a vacuum cleaner for best results. 
Chemical Stripping 
Chemical stripping is a highly effective method of quickly removing large amounts of paint from wooden surfaces. It requires a more involved process than sanding. To begin, use tape to cover any areas you don't want to be stripped of paint. Then, clean the surface with warm soapy water or denatured alcohol. This can help you remove any dirt or grease build-up that might interfere with the effectiveness of the stripper. 
From there, apply several coats of your chosen paint remover. Use stainless steel putty knives or disposable brushes. Always follow the manufacturer's instructions. Make sure you allow ample time between each coat for maximum effectiveness. Once you've applied multiple coats, let the stripper work its magic. After enough time has passed, you can scrape off the softened paint with a plastic putty knife or stiff brush. 
Stubborn spots can be scraped with fine-grit sandpaper or steel wool. Clean up any remaining residue on the surface using warm water. Finish by wiping it down with mineral spirits if needed. Always dispose of any used rags per local laws before proceeding further.
Heat Stripping 
Heat stripping can effectively remove stubborn paint from intricate shapes, such as carved furniture or cabinetry. To use this method, prepare your work area as you would for chemical stripping. Protect any non-painted areas from being affected by the heat. 
Then, carefully aim a heat gun at the painted areas. Be mindful enough not to hold it in one spot for too long. This can help you avoid causing damage to the underlying wooden surface or warping its overall shape. Once the paint layers have softened, use a flat blade tool, such as a stiff putty knife, to scrape away the paint while it is still warm. 
Since no major physical force is needed, this process should be relatively easy. After removing the paint, wipe down the surface with mineral spirits if needed. Avoid speeding up the process by overheating the area. This could create a fire hazard and potentially damage the underlying wood structure over time.
Stripping Painted Hardware 
Sanding is a great option for small hardware pieces, like hinges and handles. That's because it's quick and won't cause damage to the surrounding material. Sand the hardware and protect the wood around it from scratches simultaneously. 
However, if you're dealing with particularly stubborn pieces, chemical strippers can be a good alternative. They can help you avoid causing damage to the hardware through prolonged exposure to heat. Follow the same steps as you would with larger areas. At the same time, take extra care when removing smaller pieces. They are more delicate and prone to damage when not removed carefully.
Troubleshooting 
Signs of Incomplete Stripping
When bits remain after attempting a paint removal method, move on to another one. None of the methods are completely foolproof in terms of their ability to remove every single bit. Look out for spots that appear too light because of the varnish that remains once all other layers have been removed. Keep an eye out for spots that are too dark as well. These usually indicate an incomplete removal process even after several attempts or applications. 
Paint Removal Tips
Be sure not to apply too much force when scraping off softened layers of paint, even when hotter temperatures seem appropriate. Remember that prolonged exposure will cause more harm than good. This is true in terms of both achieving desired results and creating potential damage to the underlying wooden structures. 
Care Of Stripped Wood
Once all paint has been removed, use protective sealers and stains. This is important regardless of whether you're sanding, chemically stripping, or applying heat. 
Finishing Touches 
After completely removing old varnish or paint, use polyurethane sealants to protect the wooden surface from potential moisture damage. This can also help you preserve your desired color. If you want to apply a unique color scheme to the stripped wood, you can apply patterned stains, such as horizontal stripes or traditional coffee-brown hues. 
The colors aside, once the sealing agent has dried, you can paint the area to meet your vision. However, be mindful of the temperature. This can help you avoid rapid cooling or expansion cycles. These can cause unnecessary strain on the surface, so it is best to keep the temperatures low, especially when using heat guns.
Conclusion
Stripping paint from wood is not an impossible task, although it can initially seem daunting. You can still safely strip paint from wood when you follow the right methods and apply the proper products. Sanding is great for small projects, while chemical and heat stripping can remove paint from larger areas or more intricate shapes. 
Consider safety when using these products and methods. As always, follow appropriate precautions. Finally, after removing all of the paint, take extra care when sealing and staining the wood. Doing so can help you protect the wood against weather damage. With the right tools and processes, you'll have a beautiful, new-looking piece of furniture in no time.