Woodworking Basics: How to Safely Sharpen an Axe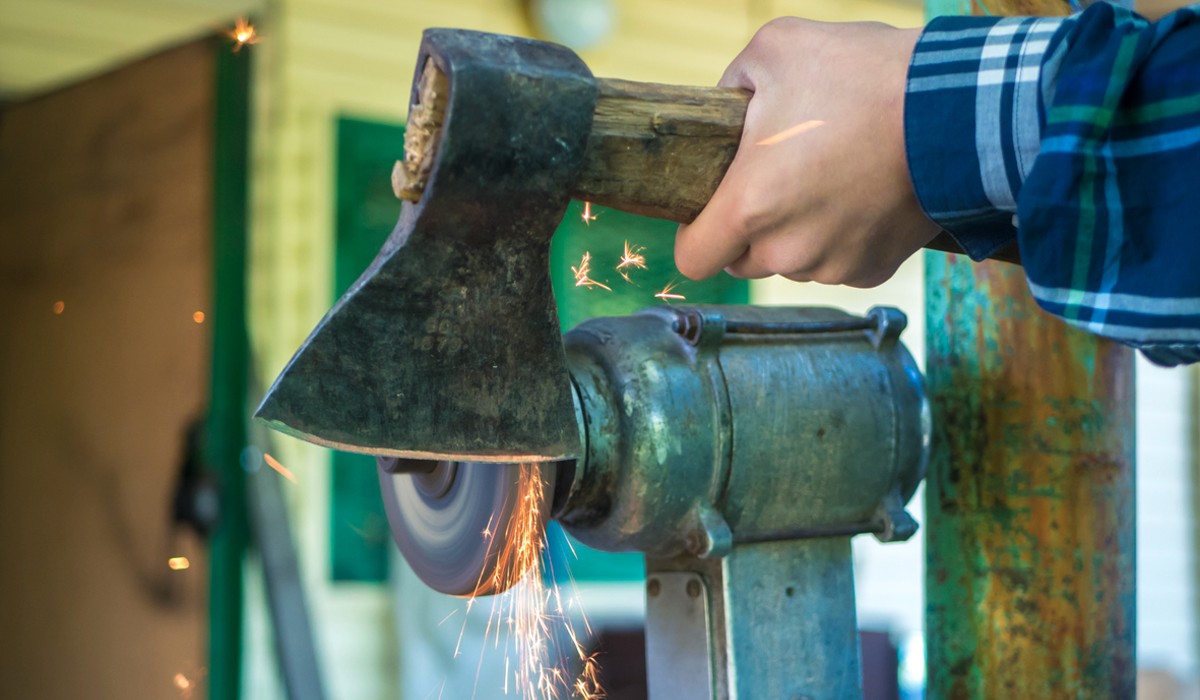 The axe is one of humankind's oldest tools, yet it remains an incredibly useful item even today. If you want to wield an axe, it's important to know how to sharpen it correctly. Without a sharp blade, an axe is not only ineffective, but it can also be unsafe. This post will teach you how to sharpen an axe.
We'll cover everything, including picking the right tools, preparing the axe for sharpening, and how to sharpen the blade correctly. We'll also provide tips on how to maintain the edge of the blade, and how to store it safely when it's not in use. If you're trying to learn how to care for your axe, you are in the right place.
Equipment Needed
Before getting started, there are certain supplies that you will need. You will need an axe that is in good condition. Check for chips and cracks in the head or handle, and ensure the metal is intact and has no rust. You will also need a file or metal grinder, sandpaper with grits ranging from 150 to 400, and protective safety equipment, such as safety glasses and work gloves.
Axe Cleaning and Care
Once you have gathered the necessary tools, it's crucial to inspect and clean the axe before sharpening. Start by checking the handle for any loose nails or screws and re-tighten if necessary. It's also important to check the cutting edge for chips, cracks, or nicks.
The next step is to clean the axe with warm water and soap. This step will help remove any dirt, debris, and oil from crevices in the blade and handle that could create problems later on. A wire brush can help remove tough buildup from hard-to-reach areas on the axe head. Once cleaned, apply a light coating of mineral oil to help protect against corrosion before sharpening your axe.
Removing Rust
If your axe is corroded or has rust spots, remove these spots before sharpening. Start by using 150-grit sandpaper to roughly remove any rust on the cutting edge of the blade. Move on to using finer grits to achieve a smooth finish on the metal surface by rubbing in circular motions until all rust spots are gone.
Sharpening the Axe
Before beginning this step, ensure that your file is well-lubricated with either oil or water. This step will help protect against creating burrs in your blade while filing.
Selecting the File Type
The type of file used for sharpening depends on how dull your axe is. Coarser files should be used for heavily dulled blades, while finer files are for blades that only need minor touch-ups. Avoid using flat files for sharpening an axe, as they can create an uneven edge on the blade, resulting in an unbalanced weight distribution throughout its length.
File Direction
When sharpening an axe using a file, always file away from yourself in long strokes that cover the entire sharpened edge. Align the file to follow along the natural curve of your axes cutting edge, and avoid filing below the cutting line. Cutting below this line could cause structural damage or weaken its strength.
Setting the Angle
A proper angle should be set at around 25 degrees when filing both sides of your blade. Too steep of an angle can cause problems during use, while an angle that is too shallow can reduce the cutting efficiency of your axe. Hold your file at a consistent angle throughout each stroke.
Stroke Technique
When filing away at your axe's cutting edge, always use slow and controlled strokes, focusing more pressure toward the tip of each stroke. This process will ensure even filing across its entire surface area with no extra force at any particular spot.
Safety Considerations
Following these instructions will help ensure safe practices when performing maintenance on your axes. Always wear eye protection when sharpening, as small pieces of metal may fly off during filing. Never leave your axes lying around unattended. Always store them out of reach after use to prevent injury. Check your axes for damages, such as cracks along the surface. Address any damage right away to avoid further weakening or potential injury resulting from improper use.
Conclusion
Woodworking is a rewarding skill that can be mastered with time and dedication. Knowing how to safely sharpen an axe is an integral part of the craft, and with this guide in your arsenal, you'll be ready to tackle projects with ease. Every job is unique, so it's important to select the right sharpener and practice proper safety precautions. Following these steps and understanding the basics of how to sharpen an axe will make the process smoother and give you the ideal results. With these tips, you'll be ready to master the art of sharpening an axe.