How Do You Sharpen An Axe?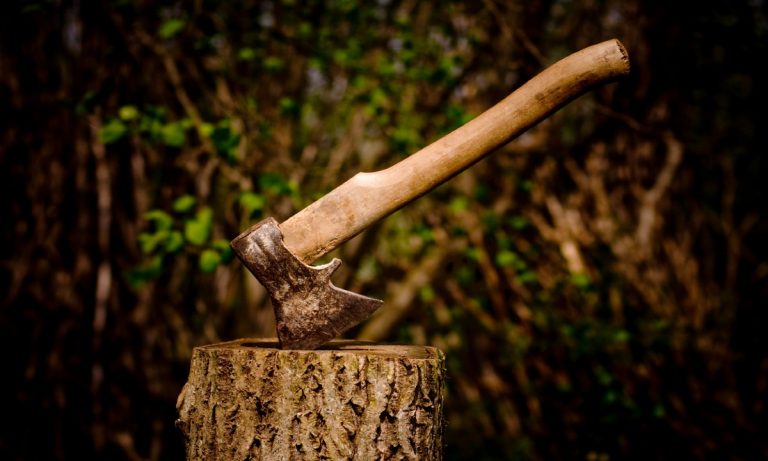 Proper woodworking tools are great, but they won't benefit you much if they're dull or blunt. So, to improve your work time, using sharp-edged tools is inevitable. If your tools are adequately whetted, you'll work more efficiently and need less effort to cut through a piece of wood.
While axe sharpening is a worthwhile skill that can help professional and occasional woodworkers, not many people possess it. Although it may appear challenging, learning to sharpen your hatchet is no rocket science. Here, we've discussed different methods to help you learn the lost art of axe sharpening.
Different Methods of Axe Sharpening
With a file
One of the most common methods for sharpening this tool is with the help of a file. It is a simple method, much like filing your nails with a nail file. You need a file, filing brush, tar remover, clamp, beeswax and working gloves.
After gathering these materials, follow these steps:
Start by clamping the cleaver to a worktable to avoid accidents

Clean the tool's head of any pitch and sap buildup using a tar remover

Using a file brush, free the file from any previous filings

Wear work gloves and start filing the blade's edge matching its bevel to avoid reshaping it

Make sure you're filing in push strokes in one direction and not all around

Once you've filed both edges, lightly coat the head with beeswax to protect it
Using a grinder
A bench grinder can also help sharpen your hatchet. Though the results will be quick, they're less precise. You'll need to wear safety glasses along with work gloves. Besides these materials, you'll also need a tar remover, file brush and beeswax.
Once you've got all the materials, you can start the sharpening process with these steps:
Use the tar remover to clean the tool and grinder wheel

Find the right angle for filing your tool — the blade should be parallel to the wheel

Start grinding one side of the blade following its curve while maintaining a consistent angle

Keep the blade moving across the grinding wheel to prevent flat spots and overheating

Repeat the process for the second side until you're satisfied with the sharpness

Seal the sharpness with beeswax
With a sharpening stone
Newer and easier methods have replaced the most old-school sharpening method using a sharpening stone. These stones come in two different grits having a rough and fine side. We recommend wearing gloves to protect your hands. After preparing for the process, follow these steps:
Clean the blade with a tar remover to prevent the stones from clogging up with pitch or sap

Use a few drops of honing oil to lubricate the stone before sharpening the blades

With the stone's rough side, start making circular passes across the blade

After sharpening both edges with the rough side, use the fine edge to refine them
Conclusion
Sharpening your woodworking tools is essential for a fine job. This guide discusses multiple methods to sharpen your woodcutting blades. All these methods deliver excellent results, giving you razor-sharp blades. Make sure you abide by all safety guidelines to prevent accidents.