How to Effectively Roll and Stow an Extension Cord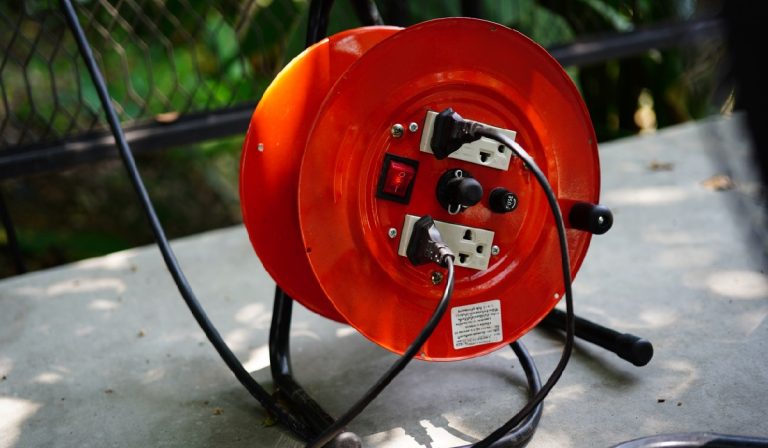 Extension cords are essential tools when it comes to DIY projects and home repairs, but they can be a pain to manage when it comes to organization and storage. If you don't have a good place to stow them when not in use, they're bound to get tangled and kinked. There's an easy way to roll and stow your extension cord to keep them damage free and out of the way when they aren't being used.  
In this post, we'll discuss the basics of rolling and stowing extension cords. We'll also provide helpful tips and tricks to make sure you're keeping yourself safe in the process. With a bit of practice, you'll be able to get your cord rolled up and stowed away in no time. Let's get started.
Gather Your Cord
Before you roll up any extension cord, make sure it doesn't have pre-existing issues. Look for fraying or splitting on the insulation, kinks in the wire, or any other signs of damage. If you find any of these, do not attempt to use the cord as it may become a safety hazard. Replace it with a new one if necessary. 
You can manually wind your extension cord and throw it in a bin; however, that approach won't protect the cord from damage.  To keep your extension cord in working condition for years to come, we recommend an extension cord reel, especially for heavy-duty cords longer than 50 feet. There are two types of reels; manual and automatic. When it comes to different outlets and extension cord reels, compatibility is key. Be sure to choose an extension cord reel that fits your outlet's plug and voltage needs. Reading the manufacturer's instructions and any warnings regarding safe operation is also recommended. 
Be sure to mount your chosen extension cord reel securely on a wall or flat surface that can support its weight once the cord is fully extended. Once you have securely mounted the extension cord reel, attach the supplied mounting screws to the provided slots in the back of the unit. 
Types of Extension Cord Reels
Manual Wind Reels
Manual wind reels require you to manually wind the cord around the reel to keep it neat and organized. This type of reel is often less expensive and easier to install than the automatic reel but requires more time and effort from the user if they want to keep it neat and organized after use. 
Automatic Wind Reels
Automatic wind reels are designed with convenience in mind as they automatically retract the cord after use. This means that once you're done operating an appliance or tool, you simply let go of the cord and it will automatically retract into its housing without any manual winding required. Automatic wind reels are slightly more expensive than manual wind reels but deliver greater convenience at the cost of a higher price tag. 
Mounting The Extension Cord Reel
Before using the extension cord reel, you'll need to mount it somewhere convenient and easy to reach in your workspace or garage. Depending on the model you purchase, most will include instructions on how best to mount it onto a wall or ceiling, as well as any hardware that needs to be included. Make sure that you mount it firmly, so it won't move or shift around over time.
How to Attach Cord To The Reel
Once mounted, you'll need to attach your extension cord(s) or power supply cable(s) before proceeding with use. Most reusable extension cords with male and female plugs can directly connect to the reel's swiveling pins. If your extension cord is equipped with twist-on connectors, it can also be easily attached with the provided mounting nuts. Once attached, make sure all connections are secure before proceeding with use. 
Setting Up the Extension Cord Reel 
Before using the extension cord reel, you should always take safety precautions when handling an electric tool or any equipment connected to electricity. Wear appropriate protective gear such as insulated gloves when handling any electrical equipment. Check your cords and plugs to make sure they are in good condition before connecting them to power sources. Do not attempt any repairs on electric cables or plugs yourself; always seek assistance from a professional electrician. Make sure that all outlets are well grounded and that no water or other liquids come into contact with any electrical equipment. Always turn off power sources when not in use. Avoid splicing or "daisy chaining" cords together for increased length; only use quality branded products intended for electric use 
Open the cord reel 
Once you have taken all necessary safety precautions and become familiar with them, you can begin setting up your extension cord reel by pressing down on the spool button while simultaneously pulling out on the handle until the spool opens up completely. If your model has an adjustable stopper pin located on top of the handle, make sure it is closed off completely so that it securely holds the open spool in place during use. Depending on how much length you need to reach your project area, you'll need to adjust how much rope is taken out. Once you determine the right amount, you're ready for use! 
Using the Extension Cord Reel 
Unspooling the cord 
Now that everything is in place and set up correctly, all that's left is extending (or unspooling) and retracting (or reeling in) your extension cord from its reel holder as needed when working on tasks or projects around your workspace or garage area. To do this, press down on the spool unlock button again while simultaneously pulling out its handle until the desired length is achieved. Secure the locked position with an adjustable stopper pin located at the top of the handle (if available). Then twist the bottom locking nut back into place once finished using it (if applicable). Now plug in whatever electrical tool/equipment into the female end of the extension cord.  
Reeling in the cord when finished 
When finished using your device/tool and you're ready to put it away, turn the tool off accordingly. Unplug it from the male end first. Then unplug the female end from the electric power source outlet. Adjust the spool unlock button while simultaneously pushing in the handle until the desired retracted position is met. You can also manually roll in the cord if you have a manual reel; make sure the layers are neat. Always stow reels in dry, cool areas to prevent damage.
Conclusion
Rolling and storing your extension cord properly is important for safety reasons as well as to ensure that it continues to work effectively for years to come. It's not a difficult task – all it takes is a bit of time and effort to ensure that your cord is unwound and rolled up correctly. Following the steps outlined in this guide, you'll be an expert in rolling and storing your extension cord in no time. So, the next time you need to use your extension cord, pull it out of storage, unwind it, use it, and then roll it up and store it properly. With a little practice and patience, you'll never have to worry about tangled cords again!