A Beginner's Guide To Using a Miter Saw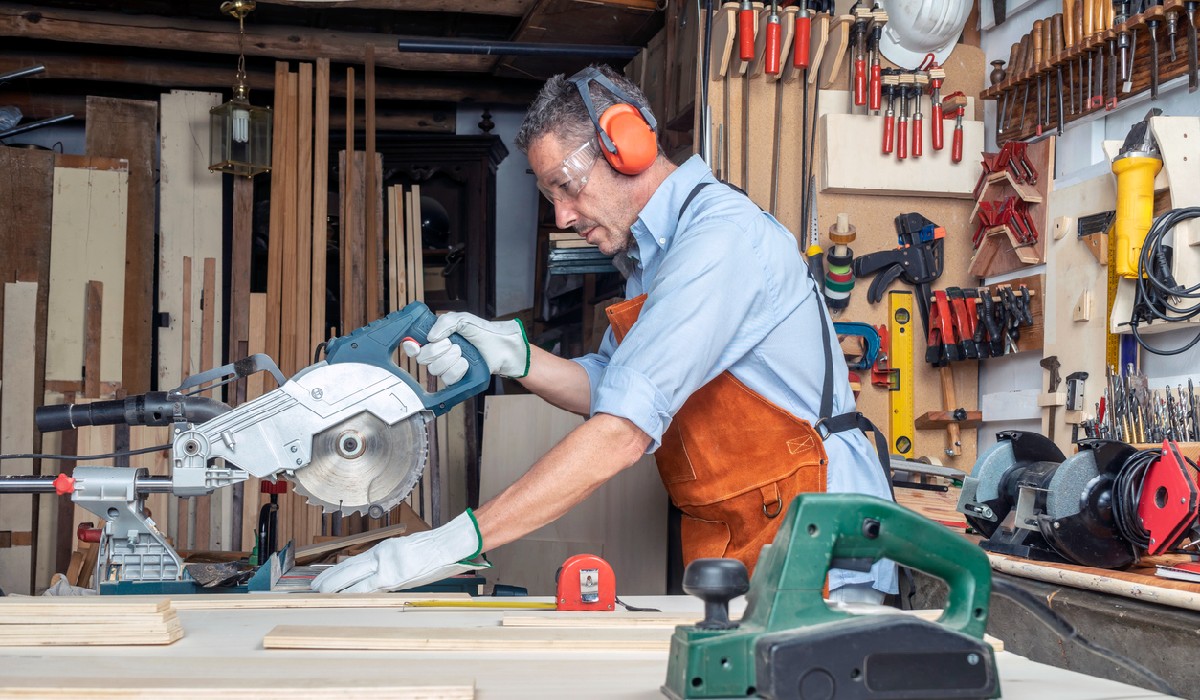 Are you a beginner looking to learn how to use a miter saw? Then you've come to the right place. In this beginner's guide, we'll go over the basics of using a miter saw, including selecting the right saw for your needs and making sure that you are using it safely and correctly. We'll provide you with tips and tricks for ensuring your cuts are as precise as possible.
Whether you're new to woodworking or just want a refresher course, this guide will teach you everything you need to know about miter saws. We'll cover the types of saws available, what safety precautions you should follow, and how to adjust your saw for accurate cuts. After reading this guide, you'll be ready to tackle any project with confidence.
What Is a Miter Saw?
A miter saw is a type of saw that can make accurate crosscuts and miter cuts. The blade on a miter saw is mounted on an arm that can be rotated left and right to create angled cuts. The arm also tilts to create beveled cuts. The fence can be adjusted up or down for cutting pieces of different thicknesses.
Miter saws come in different sizes, including small handheld models and large stationary models that are capable of making deep cuts in larger pieces of material. There are also specialty models, such as sliding compound miter saws, which allow for greater flexibility when making angled and beveled cuts.
Safety
Safety should always be your top priority when using a miter saw. Remember to wear safety glasses or goggles to protect your eyes from flying debris. Hearing protection is recommended while using the tool, as they can get quite loud. Wear snug-fitting clothing and closed-toe shoes while working with this saw.
Preparation
Before starting work on any project, it is critical to identify potential hazards, such as nearby objects that could get in the way. It is also crucial to double-check that any extension cords or power outlets are rated for the current amperage draw of the saw so they won't overheat or cause a hazard. Unplug the tool when not in use and when adjusting or changing blades, as this helps prevent accidental start-ups, which can lead to accidents.
Setting up the Miter Saw
The type of blade you choose for the miter saw will depend on what material you intend on cutting, so always check the instructions that came with your particular model for recommendations on what type of blade is suited for your application. Be sure to select blades with sharp teeth, as dull blades can cause excessive burning during use and make it more difficult to achieve a clean cut in the material.
Once you have chosen a blade, the next step is installing it securely on the saw arm. Use a wrench to tighten down all bolts so that it is secured properly and won't wobble.
Some miter saws allow you to adjust the cutting angle or depth of cut by simply turning a knob. Make sure to adjust the miter angle and depth settings before starting any project.
How To Use a Miter Saw
When making straight cuts with a miter saw, start by setting up your workpiece on the work table so that it is secure and won't move around while you are cutting it. Turn on the power switch and hold onto both sides of the handle while pressing down on the blade with steady pressure.
The process of making angled cuts with a miter saw is similar to making straight cuts. Set your desired angle on your power tool by turning a knob or moving a lever, depending on your model's capabilities. An indicator line will show where you are setting your cut line so that you won't need to do any math later. Make sure the material is firmly held in place before beginning because this will help keep everything steady while you are cutting. Turn on the power switch and carefully press down as before.
Maintenance
After each use, make sure to clean off any dust or debris from the sides of your miter saw's blade. You can do this easily with a damp cloth, but try not to use anything too abrasive or wet.
The blades may become dulled when used frequently, which can significantly reduce precision when cutting materials. It's critical to test the blades periodically to tell if they need sharpening or replacing. The instructions for sharpening can be found online.
Conclusion
Miter saws are incredibly useful tools for making complex cuts, such as angled and beveled cuts, in a variety of materials. If you are new to using a miter saw, following the tips in this beginner's guide will help safely and confidently operate a miter saw for your next project.