Chop Saw vs. Miter Saw: How To Choose the Right One for Your Project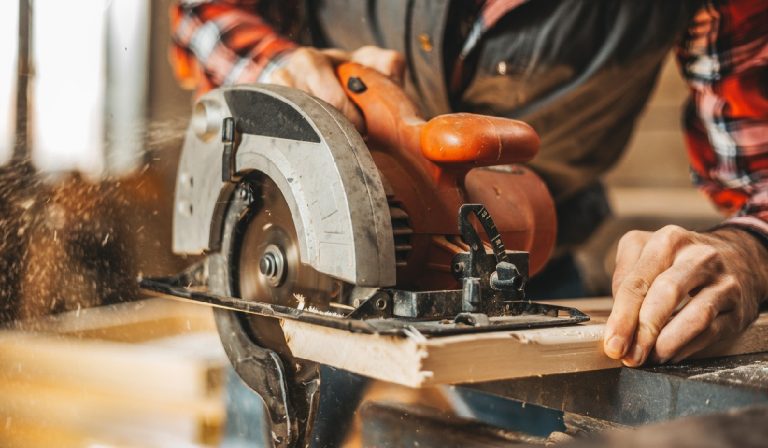 We all know that having the right kind of tools is crucial for completing any woodworking project. Are you trying to decide between a chop saw and a miter saw for your next DIY project? What is a chop saw? What is a miter saw? If you've been asking yourself these questions, you are in the right place. Both tools are great for precision cuts, and they can save you a lot of time and money, but they are not the same. We'll discuss the differences between these tools, and help you decide which one is right for you.
Types of Saws
Chop Saw
A chop saw is a powerful tool that uses an abrasive disc to quickly cut along a straight line. This type of saw is typically used for making fast, rough crosscuts, such as cutting large pieces of lumber into smaller sections or cutting pipes into the desired length. The blade of a chop saw is mounted on an arm that can be raised and lowered, allowing for more precise and accurate cuts.
Miter Saw
A miter saw is a tool that uses an abrasive disc to make angled cuts in material. It is designed specifically to make accurate, right-angle cuts along the grain of the material. Miter saws are typically used for making trim pieces or framing pieces at precise angles, such as picture frames or baseboard trim. The blade of a miter saw is mounted on an arm that can be raised and lowered, but it can be rotated to adjust the angle at which the blade will cut.
Exploring the Differences
The biggest difference between a chop saw and a miter saw is one is designed for making straight cuts across materials, while the other is designed for making angled cuts at precise angles. A chop saw generally has a larger and more powerful motor than a miter saw, allowing it to easily handle larger pieces of wood. Chop saws tend to have larger blades than miter saws, meaning they can cut deeper into materials with less effort than a miter saw. Miter saws generally have more accurate depth settings than chop saws, making them better suited for fine-tuned projects requiring precision cuts.
Choosing Between the Two
When deciding between using a chop saw or a miter saw for your project, it's critical to consider what type of job you'll be doing and what material you'll be using. If accuracy is essential and you are working with thinner materials, such as trim pieces or small pieces of lumber, using a miter saw might be your ideal option. If you're looking to make rough crosscuts on larger pieces of lumber or metal pipes, you might want to consider using a chop saw due to its more powerful motor and larger blade. Both tools can be effective depending on your needs, and remember that with either option, you will need safety gear, such as eye protection and safety gloves. It is also important to take all necessary precautions, such as keeping your hands away from the blade, to stay safe while working on your project.
Conclusion
When deciding between a chop saw and a miter saw, it's important to consider the type of project you're working on. You should also consider the materials you'll be working with. By following these tips, you can be sure you'll get the results you are looking for quickly and safely.