What Are the Different Kinds of Tap Sets?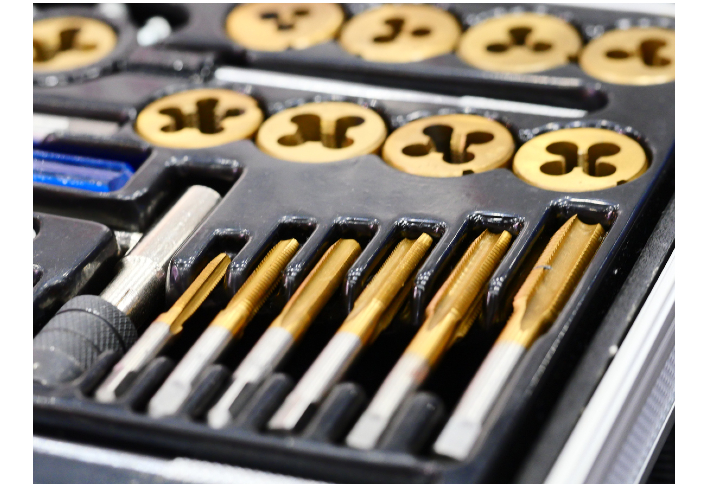 Ready-made fasteners and bolts may not provide complete service quality, especially for professional users. Even if you are merely an individual who likes creative projects, the joy of having access to personalized screws and bolts is unmatchable. With the help of a simple set, you can start on tons of designing and creating projects asap. Let's dive in!
What Exactly Are Tap Sets?
In simple terms, a tap set or a tap and die set are tools that will aid you in creating threads internally or externally for bolts and rods. The tap and die have different radii of curvature, angles, and intensities. As the dimensions of the steel sheet openings and rivets, screws and nuts change, so do the diameters. The pitch affects the type of thread that is created.  
Popular Kinds of Tap Sets
There are many different types of taps and die sets that are available. A lot of them focus on making specific shapes, while others simply differ in size. 
Hand tap
Beginner-friendly and widely used, the set further comprises a taper tap, an intermediate tap and a finishing tap — all used one after another. For instance, taper taps are swiftly fitted into drill holes and perform threading. The second type adds shape and depth to the previous results and the finishing tap cleans and wraps up the thread cut previously.
Extension taps
These are quite ordinary and almost similar to the first type in the way they look. These, with a longer shank, can be used in more places, such as oil cups or other deep-end places, and perform the same function as a hand tap.
Tap stay bolt
Another type famous for precise cuts is this top-notch tap. The lower side of the tap aids in keeping the tap steadfast and straight thanks to the same-sized hole diameter. The clean job also owes it to a reamer that is in the middle of the tap.
Gas tap
These are usually used for creating threads in a place where gas or liquid would flow. With some tapering in the length and 1.5 threads at the end, it makes the escaping of gas particles super hard. 
Machine tap
This is a large type of tap that is primarily designed for and is used in tap drill machines. With a special holder, they do a fine job of cutting threads and make the entire process faster than hand taps. Similarly, machine screw taps are taps that are employed in cutting holes that are less than a quarter-inch in diameter.
Master tap
Looking for a clean and accurate thread? The master tap has it all. Although similar to a hand tap, it does have several flutes, thus more faces to cut. Resultantly, you will have threads that are far more precise, yet it isn't as easy and effortless to use as the hand tap.
Summing It Up
These are just the basic types of sets we see around the workplace. Other prominent types, such as the flutes tap or the spiral fluted tap, are also used for different jobs. The summary above is just a quick round-up of what tap sets are and what types are available for DIY enthusiasts and professionals.