We've Tried Everything! Here's the Best Way To Organize Power Tools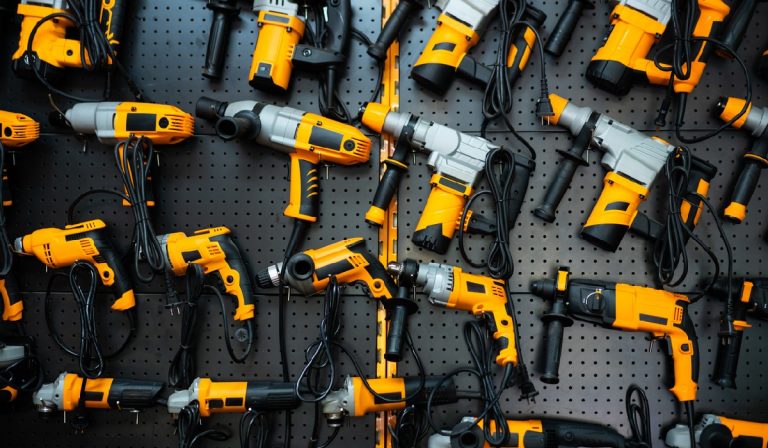 With so many power tools on the market, it can be a bit of a daunting task to figure out how to store and organize them all. While some people have figured out a way to store their tools to make them easy to find, others are still trying to figure out the key to organizing their power tools.
In this post, we'll help you figure out the best way to organize your power tools by sharing some of the top organizing methods and products. We'll also share some organizational tips and tricks to get your power tools in order and find what you need.
What Are Power Tools?
Power tools are large electrical machines that are used to perform heavy-duty tasks around the home, such as cutting, sanding, drilling, driving screws, and sawing. These machines use specialized corded or battery-powered motors that require more energy than standard hand tools.
DIY projects are one of the primary reasons for buying power tools for any homeowner. Not only do DIY projects make a house look nicer, but they also help increase resale value and reduce costs associated with hiring outside professionals. Time savings are another prime reason for purchasing power tools, as they can complete complex tasks much faster than standard hand tools.
Where To Store Power Tools
Knowing where to store your power tools is key to maintaining organization. Ideally, the best place is in a storage shed or garage where the environment is temperature-controlled and the tools are out of sight from visitors. If these options are not available, using shelving units or pegboards in the basement or closet could be another viable choice for storage.
Step-by-Step Guide To Organizing Power Tools
Organizing your power tool collection doesn't have to be a time-consuming task. With the proper materials, strategy, and patience, you can easily organize your collection.
First, you'll want a power tool organizer or something similar that can hold multiple tools (preferably one that's designed specifically for storing power tools).
Find a space in your home that has ample lighting and a comfortable work surface where you won't be interrupted during this task.
Start by sorting through each item in your collection, discarding any broken or irreparable tools, and grouping similar items.
Consider how much space you have available for storage and which type of organization system works best for you. You could use drawers, buckets, pegboards, bins with dividers, or all of the above.
Label each container with a corresponding item to identify what's inside. Store items accordingly in their designated containers and keep them in an easily accessible location so they're ready when needed.
Maintenance Tips for Power Tools
When properly cared for, power tools can last many years. Here are some handy maintenance tips to ensure your collection stays in good working order.
Regular Cleaning and Inspection
Before using any tool, make sure it's clean by wiping it down with a damp cloth or compressed air duster. After every use, remember to inspect each piece closely for signs of damage or wear, such as frayed cords or faulty switches. If they're worn down, they should be replaced immediately.
Secure Storage
Keep your items stored in their designated area when not in use, and store them away from damp areas like basements or garages where moisture levels may be too high. Items should also be stored away from direct sunlight, which may cause fading or discoloration. Opt for a power tool organizer that allows adequate air circulation while keeping items secure. This technique will help prevent corrosion caused by exposure to moisture.
Conclusion
Organizing your tools shouldn't be intimidating. With the right storage, labeling, and maintenance tips, organizing your power tools will become an easy task that you can do quickly and efficiently. Not only will your tools be tidy, but you'll also be able to find what you need faster when tackling a project. Start organizing your power tools today with these tips.