3 Useful Hacks for Organizing Your Garage Workshop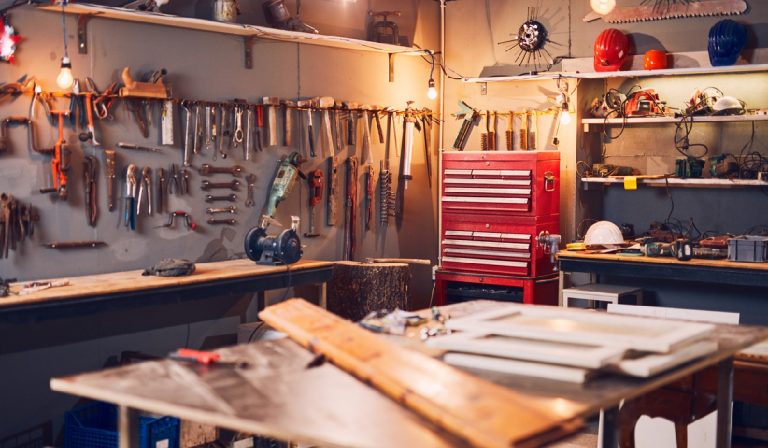 Are you looking for ways to make your garage workshop more efficient and organized? Well, you've come to the right place! This post will take you through three simple hacks that can help you straighten up your garage workshop in no time.
We'll go over some of the benefits of cleaning up your garage space, the things you should keep and the things you should toss, and some different methods you can use for your organization. By the time you finish reading, you should have some new ideas that'll help you take on any clutter or messes laying around your workshop.
The Need for Organization
There are numerous benefits to having a clean garage workspace. It allows you to locate items quickly, decreases the risk of injury, prevents you from buying things you don't actually need and it's more aesthetically pleasing.
Hacks for Garage Workshop Organization
1. What To Keep and What To Toss
The first way to organize is by separating all materials into two piles: keep and discard. Once you've done this, you can assess items based on how often you use them, how much storage space they take up, and whether they are compatible with other materials used in your workshop.
You should ensure that any items you plan to discard are not essential for completing a project. If they are essential, consider storing them in another area, such as a closet or basement. You should try to donate unwanted items instead of throwing them away completely since they may still be useful for someone else's needs.
2. Applying the "One In, One Out" Rule
The "one in, one out" rule is essential in maintaining an organized workspace, especially when introducing new products or supplies. This prevents the accumulation of unnecessary clutter by requiring the removal of an item before adding another.
To effectively put this rule into practice, assessing each item entering the garage workshop and comparing it with existing items is essential. If you identify duplicates, remove one of them before adding the new item. This approach ensures that only necessary products remain available in the workspace and prevents overcrowding.
3. Basic Storage Solutions
One simple strategy for a clean workspace is to hang items on the walls whenever possible using a wall-mounted storage solution such as a power tool organizer. This will prevent clutter from taking over your tables and floors.
Categorizing your workspace is a simple yet effective way to quickly locate your essential items. This technique involves sorting all materials into specific categories, such as tools, hardware, and painting supplies. By doing this, everything will have its designated area for easy access when required, making it easier to find what you need.
Utilizing shelves is another excellent method to keep your workshop organized. They provide a designated place for larger or smaller items off the ground. This not only enhances accessibility but also improves safety by reducing the risk of trips and falls while working in the workshop.
In addition to shelving, cabinets are an excellent storage solution. They keep small items like screws, nails, and bolts out of sight while remaining within easy reach. This feature is ideal for projects that involve small parts that could easily become misplaced if stored on shelves above ground level or scattered on counters or floors below eye level.
Conclusion
Having an organized garage workshop is essential for any DIY enthusiast. Not only can it help you save time by allowing you to quickly find the items you need, but it can also reduce the risk of injury and help you save money by only purchasing the necessary materials. And with the help of these three useful hacks, you can easily organize your garage workshop and make the most of the space.