What Is the Easiest Way To Remove Tile Flooring?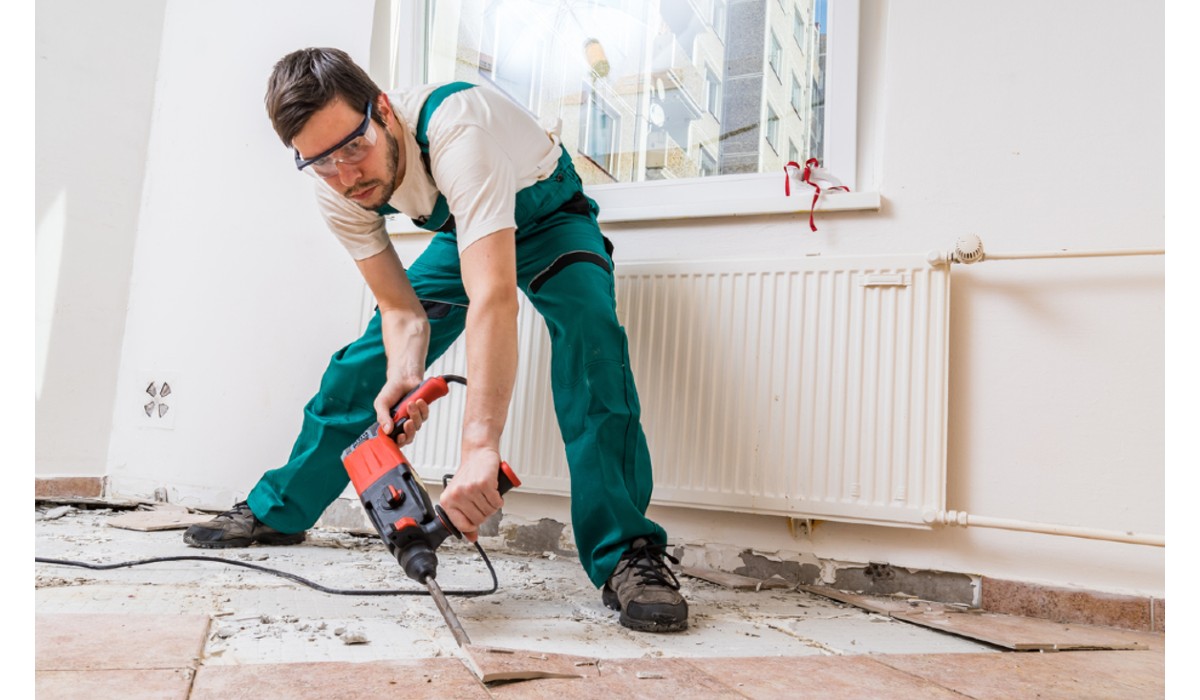 Tile flooring can make your floors stand out from regular wooden ones, but is very hard to maintain. In many cases, your tiles may get damaged from dropping things accidentally, getting tile stains, or other reasons. In situations like these, you have no choice but to change the flooring and get new tiles. Installation costs, however, can be very high for this type of flooring, so you should know how to do it yourself. 
What Is Tile Flooring?
Tile flooring is a material made up of small, thin pieces of stone, ceramic, or glass. The tiles are usually put together in a mosaic pattern and then sealed with grout or cement. Tile flooring is very popular because it is easy to clean and maintain. It can however be costly to install, so it is essential to know how to remove it properly if you ever need to.
How To Remove Tile Flooring?
The best way to remove tile flooring is by using a power drill with a chisel attachment. 
Use a pencil to find and mark the center of the tile.

Attach a chisel bit to your drill and make a hole in the middle. 

Fit the chisel bit into that hole and try to pry the tile flooring up. 

If it's not easily prying up on its own, use a hammer to dislodge it and help. 

Use the same technique to dislodge all the tiles off the floor.

Clean any residue from the floor using a vacuum cleaner and a mop.
This may seem like a painstakingly long task for each tile, but once you get the hang of it, you won't even notice. 
How To Know Whether Your Floor Needs To Be Repaired or Removed
Here is what to check to know whether your tile flooring needs to be repaired or removed: 
It is probably time for a new floor if the tiles are cracked, chipped or broken. 

When the grout between the tiles is cracked or missing, your floor needs to be replaced. 

Another indicator of a new floor is if your tile floor has sustained gradual water damage. 
You can always consult a professional if you are unsure whether your floor needs to be repaired or removed. They are trained to give better opinions and will know whether or not your floor needs to be replaced.
Common Concerns About Removing Tiles
Q: Does the ground under the removed tiles need to be treated before installing new ones?
A: You don't have to treat the ground, but it's a good idea to do so. This will help ensure that your new tiles adhere properly and won't come loose over time. 
Q: Can the tiles be removed without using a power drill?
A: If you don't have a power drill, manually remove the tiles using a floor chisel and hammer. Simply make a hole into the tile using the hammer and floor chisel, then pry open the tile as instructed before. This method should help solve any issues you might have. 
Q: Can removed tile flooring be used in other projects?
A: Yes, you can use removed tile flooring in other projects. For example, you can use them as coasters or place them in a mosaic pattern on another surface. You can even use them to re-floor a less used part of the house, like the attic or garage.
We hope you feel adequately equipped in recognizing whether your tile flooring needs to be repaired or removed, and how to go about removing the tiles yourself if required. Remember, there's no harm in seeking professional help if you feel overwhelmed!