Do Pros Really Wear Tool Belts When Working On Projects?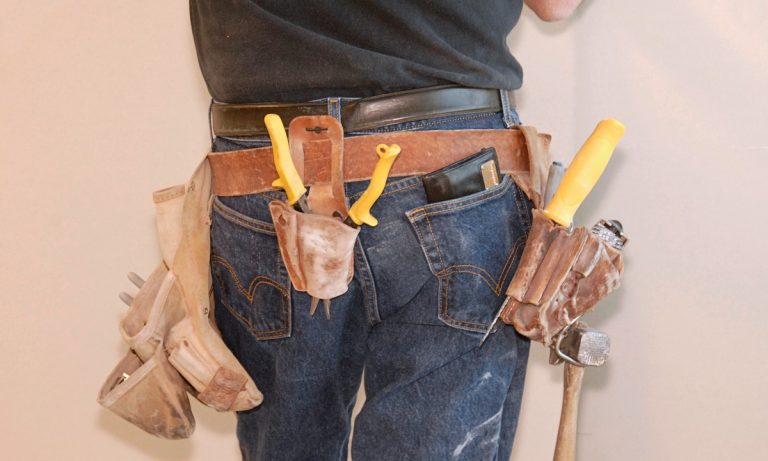 A tool belt is a great way to keep your most essential tools close at hand. Not only does this save time, but it also helps you avoid losing or misplacing tools. In addition, a tool belt can help distribute the weight of your tools more evenly, so you're not constantly lugging around a heavy toolbox. If you find yourself constantly bringing around a lot of tools, keep reading for more information on tool belts, including the features and how to purchase one. 
A BRIEF HISTORY OF THE TOOL BELT 
Tool belts have been documented to be manufactured since the early 19th century, and were probably made long before by DIYers. Workers began experiencing the need for more refined belts during both world wars when many workwear companies were commissioned to produce army uniforms. When World War II finally ended, workwear companies were no longer needed by the government. They began producing heavy-duty clothing for miners, as well as factory and construction workers. The workwear brands recognized the need for industry-specific designs and created carpenter's aprons. These aprons were similar to today's overalls, and quickly gained popularity among carpenters.
During the first half of the 20th century, carpenter's overalls were further perfected to include simple tool loops and fastener pockets. These heavy overalls offered protection from the weather and job-site abrasions. It was that very weight, however, that also constricted movement and left the workers feeling very hot during the day.
Because of the movement constraint, by the 1940s many carpenters had traded their overalls in for jeans and cloth aprons. The aprons were cooler and easier to move in, but they wore out quickly and did not have the necessary support to allow for easy tool reach. Therefore, the cloth aprons proved to be difficult for carrying multiple tools within them. Thus, hardy tool belts came into existence made from materials like leather and synthetic materials, like polyester and nylon.
CARPENTER TOOL BELT FEATURES 
Today, the common use of a carpenter's tool belt is to hold all of the essential tools that a carpenter needs while working on a project. A carpenter's tool belt commonly comprises four pockets for accommodating both nails and tools. Generally, they will also feature up to six additional pockets for smaller items such as pencils, pliers, utility knives, and more.  It features a belt up to a few inches wide, with a steel loop to accommodate a hammer, and a metal clip for the convenience of a measuring tape. 
THINGS TO THINK ABOUT WHEN CHOOSING A BELT
There are different types of tool belts to choose from. The most common type is the standard belt with pockets or pouches for holding tools. Other types include suspenders, aprons, and chest rigs. The type of tool belt you choose should be based on your needs and preferences. Weight distribution will be a big determining factor so think about what kind of projects you will be doing and their duration.
Another important factor is the size of the belt you want. It should be comfortable to wear and should not be too loose or too tight. Leather is the most durable option in terms of material, but it can be more expensive. Other options include nylon and canvas. Either way, you will appreciate knowing all your tools will be kept from harm.
CONCLUSION
 A tool belt is an essential piece of equipment for any carpenter. It provides numerous benefits and can be tailored to fit your specific needs. When choosing a tool belt, be sure to consider the size, material, and type of belt.