Will a Door Stop Keep an Intruder Out?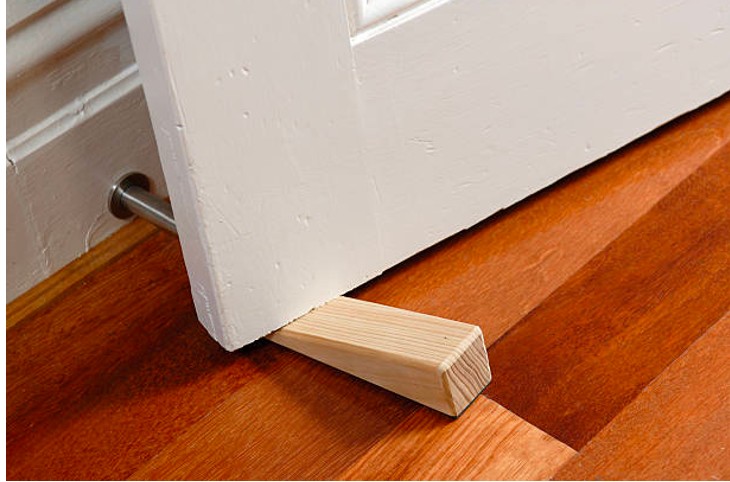 Do you worry about someone breaking into your home? Do you want to feel safe when entering or exiting your house? Or perhaps you simply don't want to get scratched by a door handle every time you open your front door. If these things sound familiar, we have got you covered.
The doors and windows of our homes represent the weakest point of security. In fact, burglars are able to break through them easily. We recommend installing a quality deadbolt lock along with door stops, which will make your home secure against unauthorized entry and damage.
What Exactly Is a Door Stop?
A door stop is a useful tool for keeping doors in place and preventing them from swinging open or closed. Along with its main purpose, there are other uses for a doorstop such as keeping intruders out. Door stops come in various shapes, sizes and materials, ranging from metal to wood to plastic. 
There are also several types of door stops that are designed to suit specific purposes. For instance, some are meant to fit under a sliding door or frame, while others are specifically designed to block the gap between two walls.
Does a Door Stop Keep Intruders Out?
Most door stops, if wedged behind the door, will indeed stop intruders from coming in. These may not be similar to keypads or locking systems, but they are also worth a try to avoid unwanted guests from entering. Unfortunately, intruders may not use the front door, to begin with, and if they happen to choose a window to come in from, the door stop can easily be picked up from the inside of the door.
Are Door Stops Worth It?
Yes, they are! But it's not just about safety; it's also about aesthetics. Door stops add style to your home while keeping children and pets safe from injury. Door stoppers are also inexpensive, easy to install, can easily be used for multiple door sizes and easy to clean off. Most door stoppers come equipped with a safety latch too.
What Else Can You Do To Ensure Safety?
Locks or even stops do not prevent intruders from entering your home or business. If you want to make sure that no one enters your premises without your permission, you should use a security system that is installed inside your building. 
Security systems monitor your property 24 hours a day for any suspicious activity. They alert you via phone calls or emails so that you can take appropriate action to ensure the safety of yourself and your family. These systems also help you keep track of visitors and notify you if somebody tries to unlock your doors.
Final Verdict
Door stops do have plenty of benefits and come with loads of other uses besides keeping the door opened safely. Although tough on the build quality, door stops aren't truly designed to keep intruders out and thus, they can still come in. That is why it's always better to invest in a foolproof safety system to keep intruders and uninvited guests away.