How to Effectively Use and Care for an Electric Pole Saw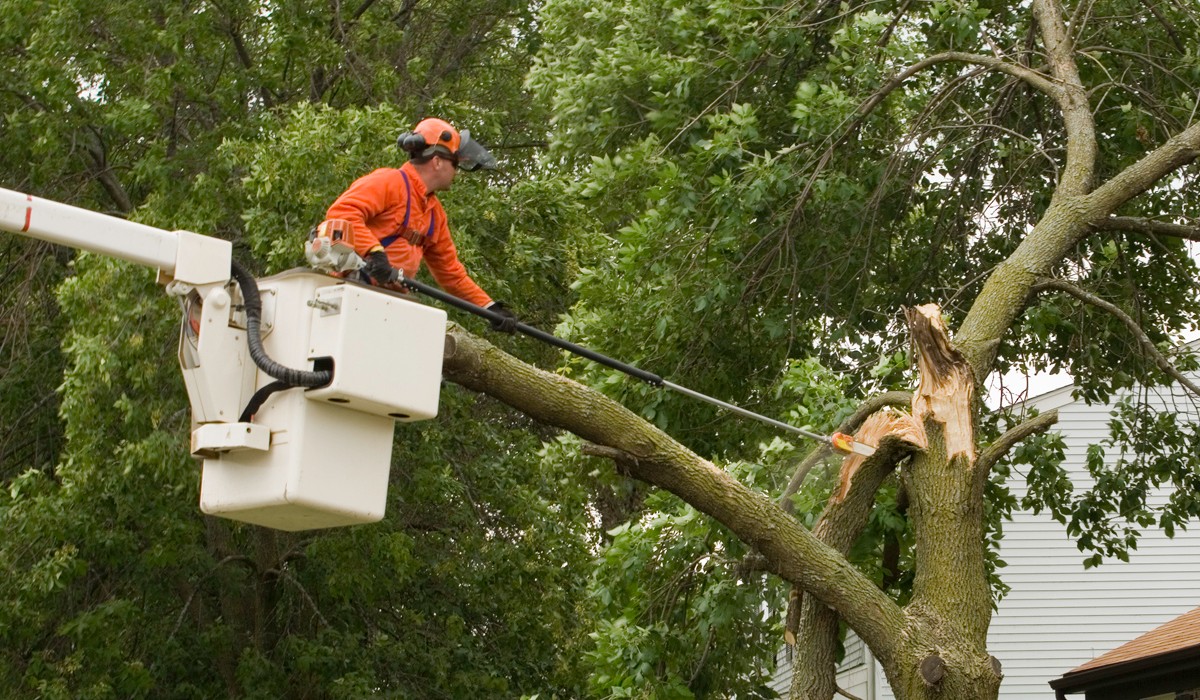 Trimming your trees not only makes them look better, but it also keeps them healthy and enhances their growth. An electric pole saw is a great tool to help with tree trimming as it can reach higher points of the tree, allowing you to tackle difficult tasks with relative ease. In this post, we'll cover everything you need to know about electric pole saws, including safety tips, how to use one effectively, and also how to care for one.
We'll make sure you're armed with all the knowledge you need so you can trim trees both safely and efficiently. Stick around until the end if you want to learn the uses of electric pole saws and how to properly maintain them.
What is an Electric Pole Saw?
An electric pole saw is a specialized cutting device used to trim trees and other foliage. It consists of a motorized pruner head mounted on a long pole that's powered by an extension cord or battery. There are two main types of electric pole saws: corded and cordless versions. Corded saws connect directly to an electrical outlet while cordless saws use a battery-powered motor, making them more flexible but often more expensive. Electric pole saws offer several advantages over their gas-powered counterparts: they're quieter, lighter, easier to operate, and they require less maintenance. They also cost less than gas saws, making them ideal for occasional use.
Preparing to Use an Electric Pole Saw
As with any power tool, certain precautions should be taken when using an electric pole saw. Always wear protective gear when operating one, such as gloves, goggles, and closed-toed shoes. Make sure you're aware of your surroundings, never position yourself directly underneath a branch that you're about to cut, and be sure to keep your fingers away from the blade at all times. You'll need some basic equipment in order to safely use your electric pole saw: an extension cord(s) (if using a corded model), protective gear, oil (for lubrication), cleaning cloths, and a ladder or scaffolding (if necessary).
Assembling an Electric Pole Saw
To assemble a pole saw, attach the pole section by inserting it into the handle of the motor unit. Then, secure it with either screws or clips depending on your model's design. Once secure, check that the connection is tight by trying to twist the joint gently; if it's tight, there shouldn't be any movement at all. Attach the blade by first making sure that it's compatible with your model, then insert it into the socket on the motor unit according to the manufacturer's instructions (usually by turning in a clockwise direction until it locks into place). Make sure that there are no obstructions either in front of or behind the blade before continuing.
Operation of an Electric Pole Saw
The main difference between gas and electric pole saws is their power source. Electric models are often lighter and quieter, but they may require a longer extension cord than gas models depending on the job at hand. Generally speaking, however, both types perform similarly when cutting branches as long as they receive sufficient power (either from an electrical outlet or battery).
Before beginning any cutting job with your electric pole saw, make sure that you're comfortable with its weight and balance. You should also think about how you'll hold and maneuver it while cutting so that you can achieve optimal control and use it safely. Start by cutting light branches to get used to how the saw moves before taking on bigger jobs. Always make sure that you have good footing while working on uneven terrain, as well as plenty of light when cutting in dimly lit areas.
When cutting with your electric pole saw, start by making small cuts from one side until you almost reach the other side. Then, make wider cuts until you've completed your job. This will help ensure that you don't lose control of the saw mid-cut, which can result in injury or damage to nearby objects or people. Keep in mind that if you're dealing with thick branches, you may need to make several cuts to reduce their size before you can finish your job.
Caring for an Electric Pole Saw
Regular maintenance is key for ensuring the performance and longevity of your electric pole saw. Start by cleaning off any dust and debris from its blades with a dry cloth, before lubricating its joints and lightly wiping down any other visible surfaces with a damp cloth. This will also help avoid rust and corrosion caused by dirt buildup over time, both of which are major contributors to diminished performance in power tools.
Following the manufacturer's instructions, apply lubrication regularly to keep your electric pole saw running smoothly. Use proper tools, such as grease guns or aerosol sprays, depending on what type of lubricant is recommended for your model.
Conclusion
Electric pole saws are an invaluable tool for tree trimming and pruning projects, allowing you to quickly and accurately tackle difficult tasks without having to climb up a ladder or get too close to the branch. Following the steps outlined in this article, you should now be able to assemble and use your electric pole saw safely and effectively. Remember to always take care when operating your electric pole saw and practice proper maintenance to ensure reliable, long-lasting performance. With these tips in mind, trimming your trees should be a breeze!