Cutting Down a Small Tree? These Tips Can Help!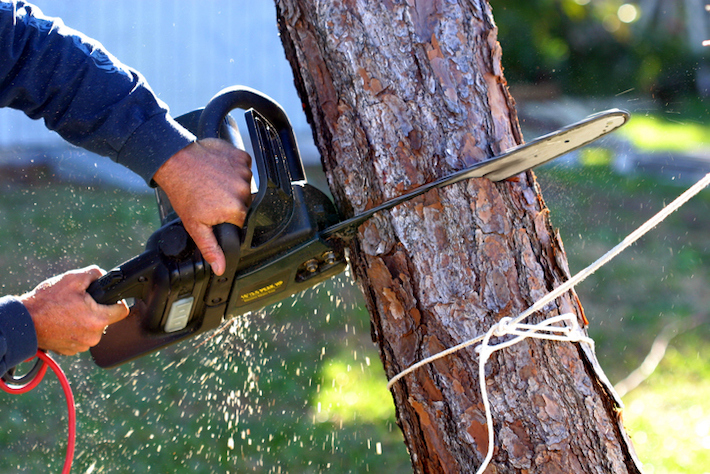 Anyone who has tried to cut down a tree will tell you it can be a difficult job, but it doesn't have to be. In this post, we'll share our top tips for cutting down a small tree safely and quickly. We'll cover the tools and safety gear you need to make sure the job is done right, as well as the best methods for removing the tree in one fell swoop. Whether you're a seasoned pro or a first-time cutter, these tips can help you stay safe and get the job done.
When cutting down a small tree, it's best to take caution and follow certain steps to stay safe and ensure clean cuts. Before taking action, there are a few things to consider, such as size, location, and variety of the tree.
Choosing a Tree 
When selecting a tree to cut down, you should consider the size and variety of the tree. A small tree should be easy to manage and handle. If you are working solo, it is best to select trees only a few feet in diameter. The variety of the tree is also important as certain trees can be more difficult to cut than others. It's also crucial to pay attention to the location of the tree to avoid any nearby power lines or structures. 
Safety 
Safety should always be the top priority when cutting down trees. Protective clothing, including gloves, goggles, and heavy boots, should be worn while engaging in this activity. It's also a good idea to have another person present in case of an emergency. Before beginning the cutting process, one should plan out the felling process and identify any hazards that could arise while cutting down the small tree. 
Equipment Needed
The right equipment is necessary for successfully felling a small tree. An ax or bow saw are two useful tools for making initial cuts at the base of the small tree. A rope may be used to tie around the trunk of the tree to control where it will fall when it comes down from its roots. Ladders can also come in handy if you need additional height to reach higher portions of the tree. 
Steps for Cutting 
To begin, cut the base of the tree by using either an ax or bow saw. The cut should form a wedge shape to guide the direction in which the tree will fall eventually.

Next, two more cuts should be used from the top corner into each side of the wedge cut made before it meets with a halfway point on both sides. 

Tie a rope around its trunk near its base to hold it as it begins slowly falling towards the desired direction before toppling it over with force. 

Once a small tree has fallen, it's important to clear up any debris left behind to keep the surrounding area safe and hazard-free. The branches can easily be removed using either hands or with the help of a small chainsaw if larger branches are present on the ground. 

After clearing out branches, one can begin cutting through the trunk until it's shortened down into more manageable pieces that can then be transported away from the site.
Conclusion
Cutting down a small tree is a relatively easy project that can be completed quickly when done correctly. It is essential to follow all safety guidelines, use the appropriate tools and techniques, and clear up all debris once the project is finished. With the tips we've outlined in this post, you'll be able to easily and safely remove small trees from your property and create a safe and hazard-free environment.