How Should I Measure That? When To Use a Tape Measure vs. Marking Gauge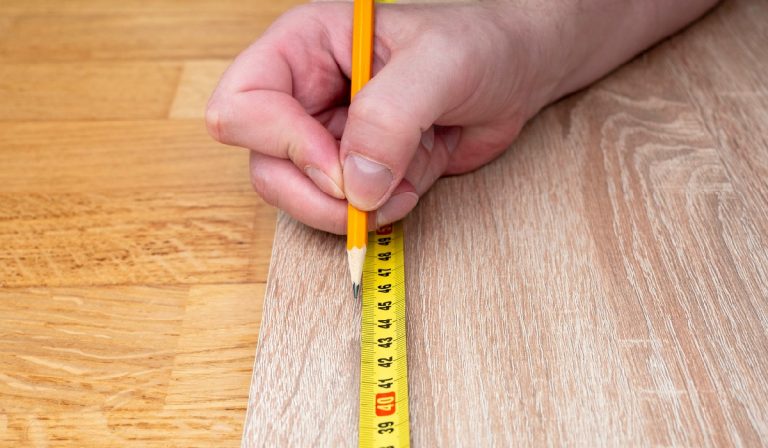 Whether you're a beginner DIYer or an experienced craftsman, learning the basics of measuring is essential. It can be confusing to know when it's best to use a tape measure vs a marking gauge. In this post, we'll discuss the difference between the two tools, how they should be used, and what kind of accuracy you can expect when using them.
By the end, you'll be able to confidently measure whatever you set out to measure, no matter what kind of project you're working on. Let's explore the world of measuring tools and find the best tool for the job.
Common Uses of a Tape Measure
A tape measure is probably the first tool that comes to mind when you think about measuring. It's a classic tool used by DIYers and professional carpenters alike. This device consists of a retracting and locking metal or plastic strip with markings depicting length in either imperial or metric units. The most common uses for a tape measure include measuring long lengths, checking the distance between two walls, measuring around curved surfaces where an inflexible straight ruler won't work, and quickly calculating simple fractions.
Common Uses of a Marking Gauge
A marking gauge is typically used for more precise measuring than you can get with a tape measure. A typical marking gauge consists of a metal beam fixed to an adjustable headstock, which can move along the beam and be locked in place with a stop screw. On one side of the headstock is an elongated spike which is used to mark out measurements onto wooden substrates. Marking gauges are great for making repeatable depth measurements on multiple pieces and transferring existing measurements from one substrate to another consistently and precisely. They're often used in conjunction with other tools, such as a saw, chisel, router, or hand plane.
Comparing the Two
Tape measures are made to quickly get approximate measurements over long distances while marking gauges are designed to achieve greater accuracy over shorter distances by transferring measurements from one substrate to another. They will have errors due to inaccuracies in their components or slope in their joints, but using a combination of both ensures accurate measurements every time. When determining the width of a board, you could use your tape measure at first pass to quickly determine its width, then use your marking gauge for finer adjustments if necessary.
Determining the Best Tool for the Job
When deciding whether to use a tape measure or marking gauge for any given job, it's important to ask yourself a few questions. How much accuracy do I need? Does this measurement need to be consistent with other workpieces? Is this measurement larger than 12 inches? Answering these questions will help you determine which tool is best suited for the task at hand.
Safety Tips for Using Measuring Tools
No matter which measuring tool you decide on, always remember that safety comes first when working on any project. Before using either of these tools, make sure you keep your hands off moving parts, such as blades and spikes. Don't forget to wear safety glasses, and take extra care when handling sharp objects. Never try to push either tool past its limits, and remember an accurate measurement is better than an inaccurate one every time.
Conclusion
Measuring precisely can be a daunting task, but with the right tools and knowledge, you can quickly and confidently make accurate decisions that will save you time and money. With the help of this article as a guide, you should now be able to choose the right tool for the right job, ensuring that you make precise measurements every time. Be sure to follow the safety tips outlined here to stay safe and have a successful woodworking experience.