Show Your Woodworking Skills and Make Your Own Shop Stool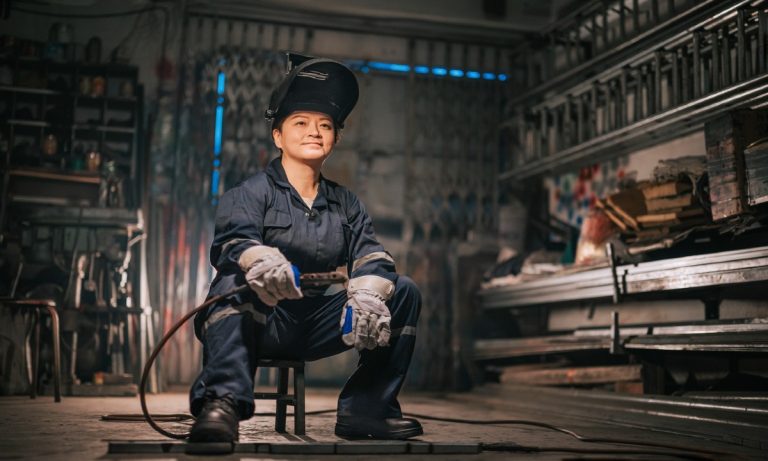 Shop stools, also known as bar stools, aren't just for bars or kitchen counters. In fact, they feel no less than a throne — especially when you have to stand and work for long hours. If you're looking for a shop stool, you can easily purchase one and be done with it. But if you have a creative eye and craft, and you're looking to save some bucks, you can hop on for a DIY venture. Don't worry, we've explained the whole process step-by-step to simplify things for even first-timers. Let's dig in!
WHY IS IT CALLED A SHOP STOOL?
It's called a shop stool simply because it makes it easy for you to go about your daily tasks and move around without a hassle. 
Firstly, it's simply a stool — unlike a chair, it doesn't limit your movement. You can purchase one with a swiveling seat and that'll help make things even better. Secondly, it comes with proper foot support and that makes it super comfortable. 
IS IT POSSIBLE TO MAKE A SHOP STOOL AT HOME?
It is totally possible to make a shop stool at home. While you may not be able to come up with a flawless swiveling stool, you'll easily be able to create a stool that's comfortable and offers leg support. 
We've curated this guide for DIY beginners so we have to consider the availability of equipment too. If you're even a little passionate about making it, you'll be able to make your own shop stool. Let's jump right in!
STEP-BY-STEP DIY GUIDE TO MAKE YOUR OWN SHOP STOOL
Get the stool legs
First things first, you need to cut four legs for your stool. You'll need thick pine wood to make the relevant cuts. If possible, purchase or cut at least four, 23.25 inches long and about 1.75 to 2 inches thick, pine wood bars.
Cut the cross braces
You're also going to need four 12.5 inches cross braces and four 8.5 inches cross braces. Why? The first four will serve as the foot support and the other four will be used to attach the upholstered seat.\
Make sure the cross braces are at least 1.25 inches to 1.75 inches thick.
Sanding before assembly
Once you have your individual bars and cross braces, it's time for you to sand the wood. Make sure it looks even and doesn't have any sharp edges.
Start by assembling the base
Once that's out of the way, you need to start assembling. We like to use 3.5 inches screws with hex washer heads. Pair it up with sturdy wood glue and you'll make yourself a nice structure that won't break the very minute somebody who weighs more than you decides to sit on it. Once you're done assembling, you can paint or polish the stool as you please. 
Cut the seat and upholster it
You need to cut a nice sturdy seat that'll later be upholstered. We suggest cutting the seat from quarter-inch plywood. Round the corners to prevent the wood from piercing through the upholstery. Finally, install a nice foamed seat and pin it down with proper upholstery nails.
Attach the seat and enjoy
Attach the seat to the base with screws, enjoy!
HOW MUCH WEIGHT CAPACITY SHOULD A SHOP STOOL HAVE?
Ideally, your shop stool should have a higher weight capacity than an average person's weight. Even if somebody's visiting you and decides to sit on your stool, you shouldn't have to stop them. A bar stool that has a higher weight capacity will usually be sturdier, long-lasting, and rugged.
FINAL THOUGHTS
A shop stool is known for its easy maneuverability and comfort. Whether you're buying it ready-made or making your own, make sure it aces in these two departments. If you're making your own shop stool, make sure to tread forward with a plan — just follow the steps above and avoid hurrying into it.